Job fair brings teens, employers together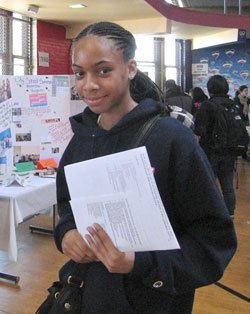 Henriquez, who started at the Statehouse in January after winning the Fifth Suffolk District seat vacated by Marie St. Fleur, told the audience about his first summer job at age 15, working as a janitorial assistant at an apartment building just a few blocks from Bird Street. The next summer, he was working downtown at IBM, wearing dress pants and a shirt and tie.
On that subject, he had some firm words for the assembled youth.
"I see only a few young men and women dressed correctly for a job fair," he admonished. He spelled out that for men, appropriate dress would be hard bottom shoes, pants, "a shirt that buttons all the way down" and maybe a tie, while women should have hard bottom shoes, pants and a blouse.
He offered to teach young men how to tie a tie, and to even lend them one if they need it.
"There are not a lot of summer job opportunities. So basically, you're coming here to compete. Did you come here to compete, or just to come check it out?" he asked. "If this is something you believe in and want, please don't go halfway, because it won't get you there."
Job fair organizers were unable to give a figure on how many jobs would come of the job fair, as funding is still uncertain. But Dan Gelbtuch, director of Dorchester Bay EDC's Youth Force, said it would almost certainly be more than 300. He expressed cautious optimism about funding this year.
Boston is fortunate to have city funding in the form of the Boston Youth Fund, he said, and to have a mayor who urges private employers to provide jobs for teens. On the state level, Gov. Deval Patrick doubled funding for youth jobs in his proposed regular and supplemental budgets for fiscal year 2012 — but the Legislature will have the final say in actual funding allocated.
"As long as we can shepherd this budget through," Gelbtuch said, "we'll have more teen jobs this summer."
GOTCHA also organizes teens to fight for funding. Last month, Gelbtuch helped coordinate a march and rally in Boston in which youth from across the state urged legislators to support jobs funding. And at the job fair, he took the microphone to remind students of another rally at City Hall on April 5, the day of a jobs funding hearing arranged by Councilor Arroyo.
A sustained effort by youth is crucial, Gelbtuch said. "We need to keep telling politicians this matters to us."