'Courage and Conviction' to be honored at banquet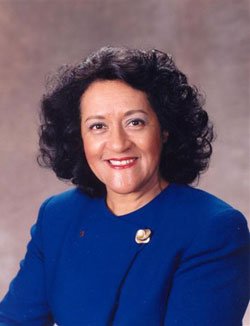 Height is best known as a women's rights and civil rights activist, but she also served as president of NCNW for 40 years.
The event's theme "Holding on to the Legacy," honors the memory of Height who passed away last spring.
"If they take the work of the awardees," said Woman of Courage and Conviction awardee Jeannette Boone, "and measure them around the kind of things that Dorothy Height stands for, I am very, very honored."
Boone, 76, a resident of the South End spends 40 hours each week looking after her neighborhood and bringing its residents up.
Twenty years ago she helped form a neighborhood association to deal with the problems of prostitution, which led to the development of the Four Corners Community Development Corporation, of which she is both founder and president. That led to the creation of a number of community programs as well as the building of affordable housing at Langham Court, which includes a community center and acts as a home-base for many of Boone's programs.
"I volunteer as a clergy and church lady coordinator for Operation Homefront," she said. "I visit children in their homes every Thursday night … many of them are failing, sometimes there are gang issues; sometimes there are bullying issues. We go in and visit with the parent and sometimes with the child, and try to help young people to make better choices for their life. If they need tutors, we find tutors for them; if they need mentors, we find mentors for them."
And that is only one of her mentoring projects. She also runs an after-school Homework Club out of the community center in Lanham Courts, and an institute for mediation, peace-building and conflict-transformation training.
"We've trained roughly 20 community leaders," she said, "in addition to that, 25 youth offenders through a program at the South End neighborhood action program — and they're certified as mediators with peace-building skills."
Boone is also developing another mentoring program where youth will mentor their peers and help them make positive choices in order to "quell the violence in our neighborhoods," she said.
She feels that she is in a position to influence youth positively by spending time and giving them the support to lead a non-violent life. She said, "It's very worthwhile when you know that a kid gets it and you can see it, and you can feel it."
Also to be honored with the Woman of Courage and Conviction Award are: Carmen Fields, 25-year veteran of Boston's journalism community; Tomeeka J. Farrington, owner of Spotlight Communications dubbed "Boston's Public Relations Princess" by The Boston Herald; Dr. Helen Giles-Gee, president of Keene State College in Keene, N.H.; Catherine French James, Ed.D., an educator with 48 years of experience in the Boston Public Schools and Linda R. McKenzie, of McKenzie and Associates, P.C., who has traveled to Haiti, Africa and other underdeveloped countries on various goodwill missions.
In addition to the awards, the event will feature a silent auction, keynote speaker Dr. Susan Winham-Bannister, president and CEO of the Massachusetts Life Sciences Center. She will tie in the mission of Greater Boston Section NCNW, and one of their many community programs: Science Club for Girls, which gives girls K-12 an opportunity to develop an interest and hobby in the sciences.
The reception will be at Montvale Plaza in Stoneham; tickets are $60, which include a sit-down dinner and live entertainment.
To purchase tickets online, visit www.ncnwgbs.org or call 781-820-7614.