Jada Pinkett Smith talks about the third season of her hit TNT series, "HawthoRNe," and about the challenge of handling the title role of Christina.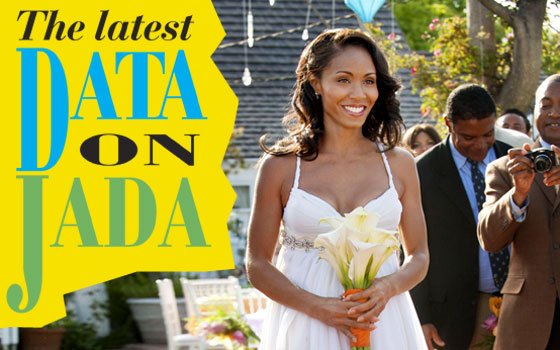 Well, this year, the most challenging aspect of the role is the fact that Christina goes through an extreme trauma starting with the first episode. This whole season has actually been very emotional and highly dramatic, so I would say that, overall, it's been a pretty difficult season to shoot.
What key quality do you believe all successful people share?
Our commitment. I think that's the key quality. You just have to keep at it. People who enjoy sustained success understand the fact that you have to remain very committed to whatever it is you're doing, especially in this instant-gratification culture.
What has been the most important moment of your life?
I'd have to say the birth of my children.
Will got to work with Jaden on screen in "The Pursuit of Happyness." Would you like to work with Jaden or Willow?
[Laughs] I do work with them, just in a different capacity. It's kind of hard for mommy to be onscreen at this point. Now that Jaden's getting a little older, his needs of me are different. There's definitely a project that he and I have talked about doing together. But first, I just have to make sure that he doesn't need so much of mommy offscreen as well. He's getting to that point, so I definitely anticipate doing stuff like that with both of them when they're older.
Do you worry about the effect of celebrity on your kids, given the trouble so many child stars have handling fame?
No, this is part of their lives. They've been members of a very high-profile family since they were born. That's just what it is.
How do you prioritize doing a TV series? How does it fit into your family's extremely full schedule?  
Everybody has to work around mommy's schedule when I'm working. Everybody has to stand down, basically. Willow and Jaden can't really do anything outside of L.A. That's just how we worked it out.
Do you ever wish you could have your anonymity back?
Oh, I still have my anonymity whenever I want it. I have a great way of disappearing, and I'm able to do things people would never imagine. I'm often not recognized because I'm easy to hide if I change my hairstyle or put on a hat. I disappear very easily. That's not hard for me to do.
What is your guiltiest pleasure?
Pizza.
Who is your favorite clothes designer?
Alaia.
What's the best thing about being a parent?
The love of a child is different from any other type of love on the planet. And being loved by your children is a love that is immense. I'm always so overwhelmed by how much my children love me. I think the best part of being a parent is feeling the love of a child.
What's one or two pieces of advice that you've given your kids about being an actor?
I try to stay out of their way and kind of just let them discover things for themselves. Our job as parents is more to keep other people out of their way, so they're free to discover what works for them on their own.