Education: A community value
6/28/2011, 2:55 p.m.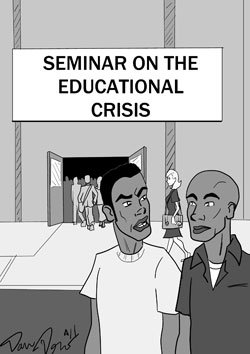 Education: A community value
"Higher education is a good thing. But who can afford it?"

For many generations African Americans devoutly believed that education was essential to progress. Blacks did not naïvely expect that a college degree would automatically open the doors of opportunity. Only 60 years ago it was customary to see black Ivy League graduates working as Pullman porters, railroad red caps or post office clerks. There was always an awareness of the limitations imposed by racial discrimination.
However, people were optimistic. Today's academic achievement was viewed as preparation for the great day coming when all men would see one another as brothers. It was often said as an assurance to students who studied hard with little hope of reward, "a good education is something they can never take away from you."
While many blacks understood the importance of a higher education to become a doctor or lawyer or school teacher, the risk was too great for some. It was unwise to be so many years away from the labor market when the prospect for professional success was slim. There were once numerous jobs for laborers that did not even require a high school diploma.
Times have changed. While executive compensation in the nation's largest firms has quadrupled on average since the 1970s, pay for the workers has stagnated. An erosion of the economic status of the working class has been under way for several years. A college education is now essential for employment at a pay level to support an upper working class standard of living.
There is a major concern that the education gap involving black males puts them at a great disadvantage in the competition for employment. A major organization seeking solutions to this problem is the Advocacy and Policy Center of the College Board. Their proposal entitled "The Educational Crisis Facing Young Men of Color" unfortunately comes up short on solutions.
This is a problem that cannot be solved only by learned people exchanging ideas in a boardroom. The solution lies in part in finding a way to use the media to change the culture of the black community to restore the once exalted status of higher education.
The workers lost out
The income gap in the U.S. has been growing. In 1975, taxpayers with the top 0.1 percent of revenue earned 2.5 percent of the nation's income. That share had quadrupled by 2008 to 10.4 percent. Taxpayers in that bracket earned $1.7 million or more, including capital gains.
It was thought that Wall Street titans, movie stars and top athletes were primarily the ones at that income level. However, a recent economic study found that 41 percent of the top earners are executives, managers and supervisors at companies that are not financial firms. This raises the question as to whether the opulent lifestyle enjoyed by CEOs' salaries is excessive.
More than 50 years ago, Columbia University Law School professor A.A. Berle wrote "Power Without Property," in which he predicted that once the entrepreneurs who founded great companies retired, the MBAs who replaced them would be inclined to demand excessive compensation. Now the executive payroll has skyrocketed while compensation at lower levels has stagnated.
Although corporate boards determine executive compensation, the appropriateness of salary levels is still a public policy issue.