Bow Wow has gone from rapper to big screen actor as he appears in Tyler Perry's latest "Madea's Big Happy Family"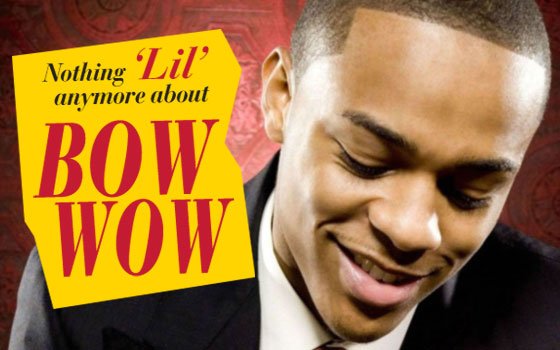 Most definitely. He does a terrific job with those dramatic moments. I think it comes from his own life experiences and from making it after everything he had to overcome.
How was it acting opposite Lauren London who played your girlfriend, Renee, and working with the rest of the ensemble?
I've known Lauren for a while. I had just worked with Loretta Devine on "Lottery Ticket," and I'd worked with the majority of the cast before, so it was really comfortable for me on set.
Tyler Perry plays so many parts in this film. Were you worried that he was going to take your role?
[Laughs] No, I wasn't worried about that at all. [Laughs some more]
I'd like to know whether you faced any difficulties making the transition from childhood to adulthood. Most of us not in the spotlight can easily shed those childhood personas, but I wonder if it's the same for someone who is both a music and film star?
I always say, "It's all about the work." That's one thing I've done. I've just committed to my work, which I think is what has enabled me to make it over that hurdle that a lot of other child stars don't. You can become greater than what you already are. That's what I'm always about.
How has show business changed since you started?
Dramatically! In music, everything's digital now. But I think change is normal. There's always a natural progression. Even in Hollywood, where you see many more independent films being shot.
What achievement in your career makes you proudest?
I'm too young to say at this point in my career. I have way too much more to accomplish.
Acting or rapping, which is your preference?
Acting in movies.
When you got older, you removed the 'Lil' from your name. As you age and mature, might you shorten it again?
No, I think if I ever changed my stage name again, I'd just start using my real name, Shad.
Is there any question no one ever asks you, that you wish someone would?
That's crazy! [Laughs] Yeah, one question people rarely ask me is whether I'm happy doing what I do?
OK, are you happy doing what you do?
Honestly? Sometimes. When it comes to movies, I love it. No complaints. But with music, I'm only happy 75 percent of the time because there's a lot of nonsense you have to deal with in the industry, although I still give it 110 percent. It's a constant struggle for artists in the music industry.
Do you ever wish you could have your anonymity back?    
In my eyes, I feel like I'm still a regular dude. For instance, I went to the movies last night. I can go to the busiest places and not get noticed, even in Manhattan.