Bow Wow has gone from rapper to big screen actor as he appears in Tyler Perry's latest "Madea's Big Happy Family"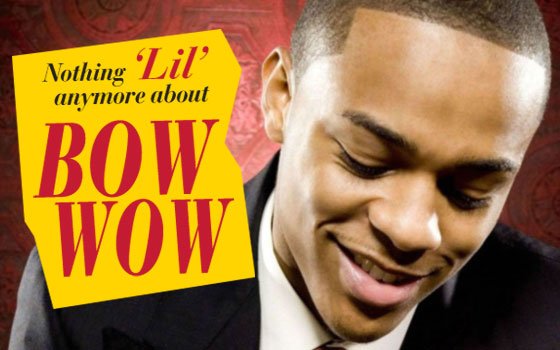 Shad "Bow Wow" Moss started his career as a rapper and has moved to the big screen. (Photo courtesy of hollywoodgrind.com)
Bow Wow has gone from rapper to big screen actor as he appears in Tyler Perry's latest "Madea's Big Happy Family"


Shad "Bow Wow" Moss stars as Byron in Tyler Perry's "Madea's Big Happy Family." (Photos courtesy of Quantrell Colbert)
It was clear from an early age that Shad "Bow Wow" Moss was destined for the spotlight. At just 5, he was discovered by Snoop Dogg and featured on the rap icon's groundbreaking "Doggystyle" album.
Renamed "Bow Wow" for his solo debut, he teamed up with chart-topping/hit-making producer Jermaine Dupri to release "Beware of Dog" in 2000, the kickoff to a string of platinum and gold albums that spawned a half-dozen #1 singles and platinum songs.
Bow Wow is the "Youngest Solo Rapper to Ever Hit No. 1," as recognized by the Guinness World Records. All told, he's sold more than 10 million CDs and 14 million digital assets to date.
Last year, he starred in the hit motion picture "Lottery Ticket," and he also enjoyed a recurring role on the HBO hit series "Entourage." His impressive list of screen credits includes: "Hurricane Season" (2009), "The Fast and the Furious: Tokyo Drift" (2006), "Roll Bounce" (2005), "Johnson Family Vacation" (2004) and "Like Mike" (2002).
Here, Bow Wow talks about playing Byron in "Madea's Big Happy Family."
What interested you in "Madea's Big Happy Family?"
What interested me was the opportunity to work with Tyler [Perry], which had always been an objective of mine because of him being a top Hollywood director. I remember walking up to him at a Janet Jackson concert and going like, "Yo, man, you gotta put me in one of your movies," as if he'd be crazy if he didn't. I thought he'd probably forget, because I have people come up to me trying to talk business all the time. But I guess he kept me in mind. It was like a blessing from God when I heard he wanted me to play Byron.
What was it like working with Tyler Perry?
It was dope! I had a lot of fun working with him. He's a hard worker. And he works extremely fast, which is how I like to operate, because he comes to the set knowing what shots he wants to get. He's very professional and doesn't waste any time. I definitely can't wait to do another Tyler Perry movie, especially since I liked the moral of the story.
What would you say is the movie's message?
That tomorrow is never promised and that family is very important. So, make sure you tell your family you love them each and every day because you don't know when it might be your last opportunity.  
Tyler certainly has a knack for crafting morality plays which touch folks deeply.