MBTA to test 'youth pass' with pilot project
Yawu Miller | 6/14/2011, 11:09 p.m.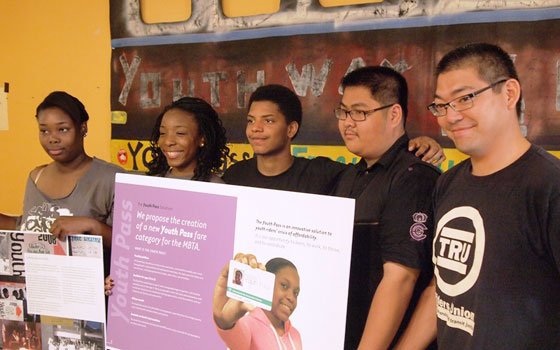 For most Boston School students, the MBTA is the system that makes their education attainable. But for some students, the $20 to pay for their monthly pass can be an insurmountable barrier that blocks them from graduation.
Devonte Jordan learned that lesson the hard way last year. Jordan was often unable to come up with the funds for his pass and began missing classes at Charlestown High. Missed classes led to failed classes and Jordan left, rather than finishing a year he was doomed to repeat.
Last year, he dropped out.
This year, he's fighting back.
Last week, Jordan and other teens met with MBTA General Manager Richard Davey and presented a report highlighting the potential benefits of discounted fares.
"T passes are not affordable," he said, speaking at a press conference before the meeting. "As a result, there's a crisis. There are many youth who are not able to get to school, work or health appointments."
During a meeting with Jordan and other youth organizers, Davey said he agreed the agency would implement a pilot project to test the idea with a limited number of passes.
Jordan and other teens working with the Roxbury Environmental Empowerment Project, the Boston-area Youth Organizing Project (BYOP) and the T Riders Union released a report that found that only half of youth between the ages of 12 and 21 who ride the MBTA have access to a discounted Student Link or Student Charlie Card.
For the other half, a single ride on the T can cost as much as $2.
On weekends and in the summer time, teens who work jobs, volunteer or participate in sports, music lessons or other youth programs, often have to struggle to come up with the funds or walk.
Anatullah Mervin faces that struggle just trying to come up with the $20 she must pay for her Student Link pass. Mervin lives with her older sister and her two children in Cambridge, works with BYOP and plays lacrosse for Cambridge Rindge and Latin school.
"I'm an athlete, artist, student and musician," she said. "The T is young people's path to opportunity. There's a crisis with the youth. We can't afford to ride."
While the MBTA offers senior citizens a discounted rate of 60 cents a ride and allows children 12 and under to ride for free with a parent, teens not in school must pay the full fare of $1.70 for a train ride.
Under the teens' plan, students would be able to purchase an MBTA pass for a discounted rate of $10 a month. MBTA officials estimate the pass would cost the cash-strapped agency $27 million a year. The youth advocates are urging the MBTA to create a new university pass program, through which area colleges would pay a lump sum for student passes. The advocates estimate such a program could provide the MBTA with $60 million in additional revenues.
"The youth pass can be funded," said Transit Riders Union Director Lee Matsueda. "The question is one of priorities."
David Jenkins, a co-director of the Roxbury Environmental Empowerment Project, said Davey's pledge to test the concept of a youth pass is a good step forward.
"It will help the T and the state understand how youth are using the T and what are the barriers they face," he said. "It's a huge victory for us."