Debate still simmers on JP gentrification
Yawu Miller | 6/14/2011, 10:57 p.m.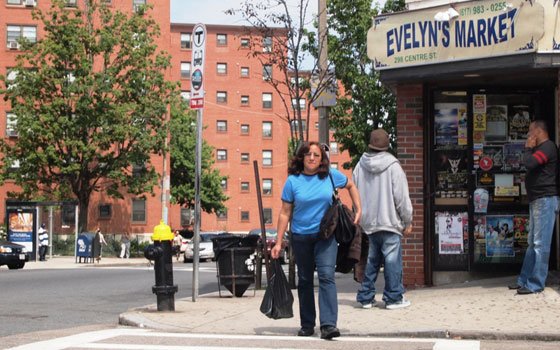 Rey-Alicea says some pro-Whole Foods activists are celebrating the displacement of Latinos.
"One woman said, 'I say welcome to all the new people who are coming to Jamaica Plain and making it a safer, cleaner, quieter place,' " she quotes. "There are definitely a lot of value judgments that are being surfaced in this debate that come off as patronizing."
Rey-Alicea isn't the only one to notice.
Hyde Square Task Force Executive Director Claudio Martinez blasted the anti-Whole Foods activists for what he said were "paternalistic and condescending attitudes" toward Latinos, but drew fire from white pro-Whole Foods supporters.
"As ugly as this debate has gotten, it's good that this stuff has surfaced," Rey-Alicea comments.
Putting displacement in context
The displacement of people of color seen in Jamaica Plain is one of the hallmarks of gentrification UMass Boston professor Michael Stone identified in his address at the Forum's discussion of gentrification last week. Others include large rent increases, the conversion of residential and non-residential units into luxury units and improvements to amenities in the neighborhood.
So far, the South End stands out as one of the best examples in Boston. There, buildings that housed schools and churches blacks and Latinos attended in the '60s and '70s are now luxury condos. Most of the blacks and Latinos who remain there live in the neighborhood's many subsidized housing developments — the Villa Victoria, Cathedral, Tent City.
Jamaica Plain may not be far behind. In the early '70s, blocks of housing were demolished to make way for the extension of Interstate 95 through the center of the city, a development that activists in Roxbury, the South End and Jamaica Plain ultimately stopped with a well-coordinated protest movement.
By 1987, when the Orange Line relocated to the Southwest Corridor, groups like the Jamaica Plain Neighborhood Development Corporation were helping to revitalize the area with new housing, commercial development and other amenities. Coupled with the new access to rapid transit, these efforts made the neighborhood a desirable urban destination. Real estate prices and rents began increasing.
Many point to the rising real estate costs as the major reason the black and Latino population is declining in Jamaica Plain and increasing in neighborhoods like Hyde Park, where blacks now constitute 47 percent of the population and Latinos 19 percent.
If the current trends continue, Jamaica Plain could go the way of the South End, with its vast income disparities between families living in Section 8-funded developments and professionals living in $2 million duplex condos.
On the MassRealty.com website, the median sales price for a single family home in Jamaica Plain is a staggering $817,000. By contrast, the average sales price for a home in Dorchester listed on the website is $320,000.
"When I moved into Jamaica Plain in 1980, I paid $60,000 for my house," says Puerto Rican community activist Jaime Rodriguez, who retired two years ago from his job as research coordinator for the Joiner Center at UMass Boston. "Now you'd have to pay five times that."
Fighting displacement
Although gentrification has long been an issue in Jamaica Plain, residents there have been working to keep the neighborhood affordable for decades. Leslie Bos, president of the Jamaica Plain Neighborhood Development Corporation (NDC), noted that her nonprofit has built more than 600 units of affordable housing.
But Bos says it's now impossible for the NDC to compete with for-profit developers to develop on privately-owned land and competition for public parcels like the Arborway Yard and Jackson Square is tight.
"There's a limited amount we can do," she said, speaking at the JP Forum.
On the rental side, City Life/Vida Urbana has helped tenants fight large rent increases by organizing tenant unions that can employ collective bargaining with property owners. The organization also helps homeowners fight foreclosure evictions with blockades.
The work is most challenging in the group's Jamaica Plain base, according to organizer Steve Meacham.
"The goal of a stable working class community and the goal of real estate profit are completely antithetical to each other," he said, speaking at the forum. "You can't have one and the other."