Ghanian-born artist El Anatsui is known for making gorgeous tapestries from liquor bottle wrappers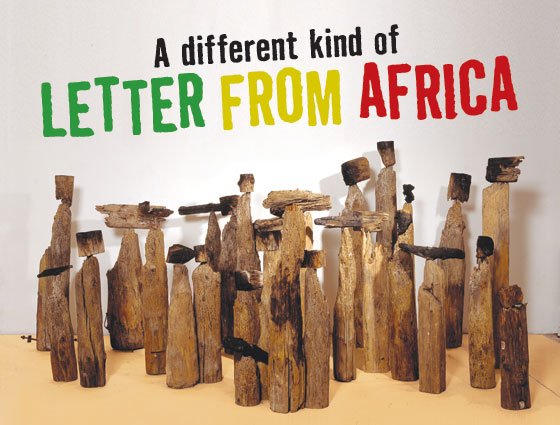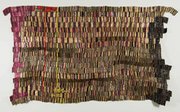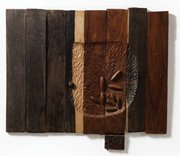 Ghanian-born artist El Anatsui is known for making gorgeous tapestries from liquor bottle wrappers


As warm and engaging as its title, the exhibition "El Anatsui: When I Last Wrote to You about Africa" — on view through June 26 at Wellesley College's Davis Museum and Cultural Center — is one of the most memorable museum shows in Greater Boston this year.
Ghanaian-born El Anatsui, now based in Nigeria, has recently gained renown for shimmering sculptures made from thousands of discarded Nigerian liquor-bottle wrappers. But as this retrospective spanning four decades demonstrates, his earlier works in wood and ceramic are also rich in grandeur and surprise.
Regarded as the most important African sculptor working today, Anatsui raised his international profile at the 2007 Venice Biennale when one of his lustrous tapestries of bottle wrappers draped the façade of a palazzo on the Grand Canal, creating a sensuous and moving image of memory and loss.
Long revered in Africa, Anatsui, 67, has only in the past decade gained international fame. From 1975 to 2010, he taught sculpture at the University of Nigeria, Nsukka, where in 1976, at age 32, he presented his first solo show. Four years later, at the Cummington Community of Arts in Massachusetts, he held his first solo show outside Africa.  
Anatsui's works are now exhibited and collected by major museums in 25 countries. This exhibition, however, is his first major retrospective and Davis is hosting its U.S. premiere. Curated by Lisa Binder of the Museum for African Art and organized by the museum, which is in New York City, the retrospective will be an inaugural exhibition of its new building, which opens in fall 2011. Binder also edited the richly illustrated catalog that accompanies the exhibition.
Occupying two floors of the Davis, the exhibition presents about 60 works by Anatsui since the mid-70s, including sculptures in wood, ceramic and metal as well as paintings and drawings exhibited for the first time outside of Nigeria.  
The sleek, spare environment of the Davis, designed by the great Spanish architect José Rafael Moneo, offers a luminous setting for Anatsui's works, which exert immediate impact with their drama, sensuous allure and humor yet also reward unhurried contemplation.
While continuing to compose his works from the materials of nature and daily life in Africa, Anatsui has evolved his process and methods over four decades. At first, he used hand tools to chop, carve, scorch and etch wood; but in the '90s he began carving jagged rifts into blocks of wood with a power saw, evoking the ruptures of Africa wrought by the slave trade and colonization. Then he turned to discarded trash and other found objects as raw materials rich in associations. Formerly working solo, Anatsui has developed a team of assistants as his projects have expanded in scale.  
Anatsui's glittering tapestries of liquor wrappers adorn the walls of the ground level gallery. The intricately woven grids evoke the patterns of kente cloth, a traditional textile of Ghana. Their corrugated metallic folds glint in the light, three-dimensional mosaics that call to mind the geometric gold-leaf patterns of paintings by Austrian modernist Gustav Klimt (1862-1918). With shimmering folds and brilliant colors, some resemble topographical maps. Others memorialize places or shared cultures and histories.