Housing advocates protest award for landlord Kargman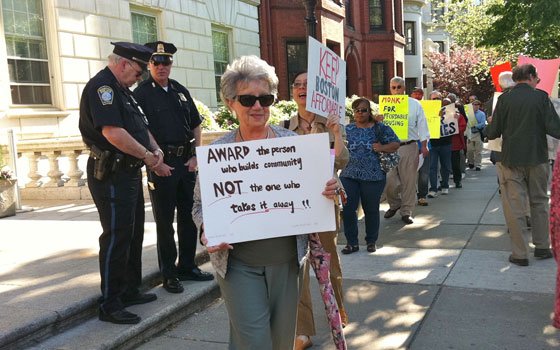 About 40 affordable housing advocates, tenants and community residents held a protest before a B'nai B'rith Housing New England (BBHNE) fundraising event in which William Kargman of First Realty Management was to be honored for his commitment to providing affordable housing.
 Protesters say Kargman should not receive an award because as federally subsidized mortgages on his buildings expire, he has converted affordable units to market rate rents, decreasing the stock of affordable apartments in the Boston area.
Most recently, 173 units at Burbank Apartments in the Fenway neighborhood were converted to market rate in April, removing 10 percent of that neighborhood's affordable housing, advocates said.
"We see the award as very inappropriate because Bill Kargman and his company have just ended the subsidies at Burbank Apartments and have dismantled affordable housing arrangements at other buildings," said Sarah Horsley, civic engagement director at Fenway Community Development Corporation (CDC). Housing advocates normally support the mission of BBHNE, a nonprofit developer of affordable housing, she noted.
"We're reluctant to picket another nonprofit," Horsley said, "but we really need to stand up and say this is unacceptable."
At the protest, representatives from Fenway CDC, Massachusetts Alliance of HUD Tenants (MAHT), City Life/Vida Urbana and Workmen's Circle marched along with tenants, chanting and displaying signs as guests arrived for the B'nai B'rith event, held at the Harvard Club on Commonwealth Avenue.
BBHNE Executive Director Susan Gittelman said in an e-mailed statement that her organization had planned for some time to honor the Kargman family, since before the 2005 death of William's father Max Kargman, who founded First Realty Management in 1970.
"As a family, [the Kargmans] invested a lot in providing safe homes and human service programs for tenants," the statement said. "They were single-handedly responsible for providing some 3,300 units of affordable housing throughout Massachusetts — perhaps more than any other private entity."
The issue is that the Kargman family owns a number of apartment buildings whose 40-year mortgages were subsidized in the 1970s by the U.S. Department of Housing and Urban Development (HUD) under an agreement that kept the apartments affordable for the life of the mortgage. As those mortgages expire, landlords have the option to bring the rents up to market rate, and the Kargmans have opted to do so.
The resulting rent increase can cause hardship for moderate-income tenants who do not qualify for subsidy vouchers. And even when tenants can stabilize their rents through an enhanced voucher system, the apartments are no longer under HUD restrictions. So each time a tenant leaves, the city's affordable apartment stock is depleted.
The changes at Burbank will have an added effect of reducing diversity in the relatively high-rent Fenway neighborhood, according to a study conducted by housing research consultant Tim H. Davis with the University of Massachusetts Center for Social Policy. The study, cited in a Boston City Council hearing in March on the future of Burbank Apartments, showed that high rents take a disparate toll on elderly, disabled, minority and single-parent households.