Dr. Ken Jeong talks about reprising his role as the flamboyant Mr. Chow in 'The Hangover Part II'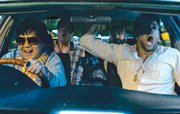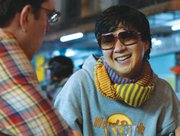 Dr. Ken Jeong talks about reprising his role as the flamboyant Mr. Chow in 'The Hangover Part II'


The son of Korean immigrants, Ken Jeong was born in Detroit on June 15, 1969 but raised in Greensboro, N.C. He graduated from high school there at the age of 16 after playing violin in the orchestra and being elected to the student council. He attended Duke University, earning a bachelor's degree before studying medicine at the University of North Carolina.
However, while completing his residency in New Orleans, Jeong was moonlighting as a stand-up comedian, and he moved to L.A. after winning "The Big Easy Laff-Off." He has since delivered unforgettable performances in such movies as "The Kims of Comedy," "Knocked Up," "Pineapple Express," "Couples Retreat" and "The Hangover."
On TV, he's appeared in a number of series and now enjoys the recurring role of angry Spanish teacher Señor Chang on the NBC sitcom "Community." He has also done a number of television specials, most recently hosting this year's Billboard Awards.
As for his private life, Jeong's wife, Tran, is a physician, too, and they have twin daughters, Alexa and Zooey.
How did you enjoy shooting "The Hangover Part II" over in Thailand?
I loved it! It was just great. Being invited to go back to the big dance for the sequel to the movie that made my career was like a dream come true for me. It was an amazing opportunity to revisit the character that put me on the map and to revisit with family. These guys are my favorite crew to work with. I just had a blast!
All the biggest laughs this go-round revolve around your character.
[Laughs] Thank you. That's very kind of you.
I read that your comedy career took off when Brandon Tartikoff saw you perform in New Orleans. Another reader, Fred Plunkett Jr., who is from New Orleans, thinks that it was Bud Friedman who told you that you've got what it takes. Care to settle the debate by sharing who it is you credit with telling you to head for Hollywood?  
Yes, sir. It was a stand-up comedy contest in New Orleans called "The Big Easy Laff-Off," and the judges of the contest were both Bud Friedman, the founder of The Improv, and Brandon Tartikoff, the former president of NBC and ex-chairman of Paramount Pictures. I won the competition and got to perform at The Improv in Los Angeles. This was fifteen years ago.
When I finished my residency in New Orleans, I went to L.A. where I would work as a doctor during the day, and then at night I would actually go to The Improv and do stand-up, all the while kind of cultivating my comedy résumé.  
Do you still keep in touch with any members of the Brown Improv troupe?
Of course! That was the improv group I worked with every Saturday for three years while I was doing my residency. I credit Brown with really helping me find my comedic voice. And there are many talented actors and comedians I worked with there who I still keep in touch with today. I look back upon Brown as my training ground, my Second City, if you will.