Celebrating Charles Sumner's bicentennial
Astrid Lium | 6/1/2011, 12:49 a.m.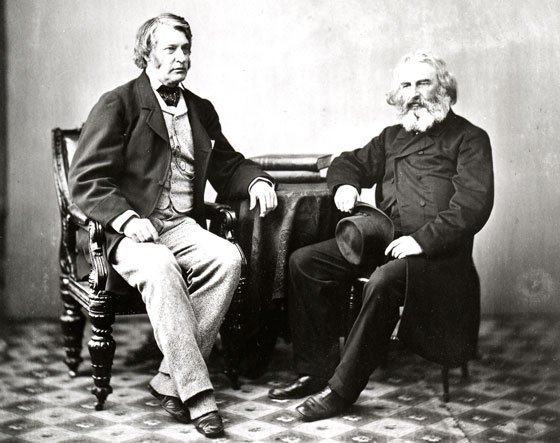 "This is one of the greatest men in U.S. history," said Coquillette. "Why is he not regarded as such like Lincoln?"
Answering his own question, Coquillette claims that race relations over the years have continued to keep Sumner a divided figure. "Even after nearly two centuries, Sumner is still constantly under attack and his causes are, as well," he said.
"The Civil War was not about states' rights," Coquillette continued. "It was about slavery. And if anyone wants to take me on about this, I am ready."
The half-joking statement invoked chuckles from the pews. However, no one challenged his claim.
Coquillette went on to describe the notoriously violent altercation between Sumner and South Carolina congressman Preston Brooks. Sumner had made outspoken and insulting remarks about Brooks' cousin, Sen. Andrew Butler, and his proverbial "mistress," slavery. In 1856, Brooks severely beat Sumner with his cane on the floor of the United States Senate.
Sumner took three years to recover from his injuries and returned to the senate in 1859. Despite the setback, he resumed his efforts in the anti-slavery movement, garnering the reputation as a rude, outspoken, shrill extremist with radical views on civil liberties.
"The division of North and South was evident that day in the senate," said Coquillette. "Preston Brooks never went to jail for his violence ... he was a coward through and through."
When asked about the influence of Sumner's upbringing on the rest of his life, Morgan-Welch underscored the connection between the two.
"Growing up in that integrated community really formed him," she said. "Blacks in Beacon Hill knew whites of great prominence and helped put them in those very positions of power."
Coquillette added, "[Sumner] was true to his upbringing and neighborhood. He had exposure to high society, traveled around Europe and spoke many languages, but he never forgot his roots."
An audience member reiterated the issue of Sumner's obscure reputation, asking why the public isn't as familiar with him as with other historical figures.
Coquillette replied, "Charles Sumner is not a household name because what the argument was then continues today. We haven't confronted it yet. His greatness is tied up in the problems we face today as a divided nation."
Morgan-Welch agreed, likening the North and South during The Civil War to modern day "blue" and "red" states. "There are still many people who argue how brash and rude the abolitionists were, as though slavery were a good idea. There is still a lot of debate about it."
Stauffer summed up the discussion by adding, "The respect afforded [Sumner] in Congress contradicts the image of a shrill, unbending, difficult person. He was demonized by many historians, particularly in the South, and is still a controversial figure."