Ryan Gosling talks about his current role as playboy Jacob Palmer in the new film, "Crazy, Stupid, Love"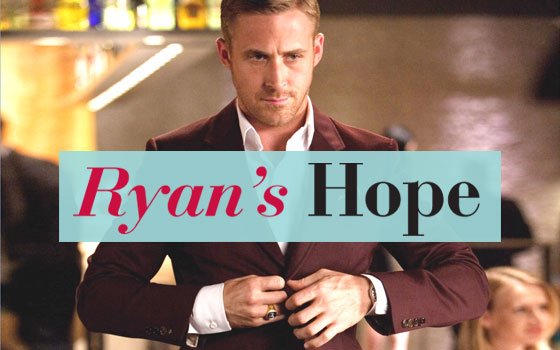 Same here. I live a block from the forest, and I like to go for a long walk in the woods for at least an hour every day.   
Oh, wow! An hour every day? That's nice! I'm jealous.
Do you ever wish you could have your anonymity back?
I can still have it, depending on where I travel.
Now that Christian Bale has finally won an Oscar, it looks like you've inherited the mantle of being the best actor who's never won one. How do you feel about that?
[Laughs] I'm honored.
If you could change one thing about Hollywood, what would that be?
That it would be in New York.
As a fellow Canadian, I am very proud that you were the first Canadian to receive a Best Actor Oscar nomination in 62 years. How did you feel about this recognition?
Again, as an honor.
What is your secret for not being typecast?
I don't give away my secret. That's my secret.  
What is the most challenging aspect of your work as an actor?
Interviews.
What is your guiltiest pleasure?
Romantic comedies.
What was the last book you read?
"Hard-Boiled Wonderland and the End of the World" by Haruki Murakami.
What was the last song you listened to?  
"My Bucket's Got a Hole in It" by Rickey Nelson.
What is your favorite dish to cook?
I like to make cereal because you don't have to cook it. [Laughs]
When you look in the mirror, what do you see?
That guy from "The Notebook."
Do you know how crazy women are about that film? It really has quite a loyal cult following.  
I've heard that rumor.
If you could have one wish instantly granted, what would that be for?
More wishes.
How do you get through the tough times?
You have to laugh to keep from crying.
How introspective are you?
Obviously not introspective enough to answer that question.
What advice do you have for anyone who wants to follow in your footsteps?
Make your own movies. You don't have to do it the way I did it anymore. You don't really have to move to L.A., do auditions, get an agent and deal with all that nonsense. You can just make a movie with your friends and put it online.