'It's better the second time around'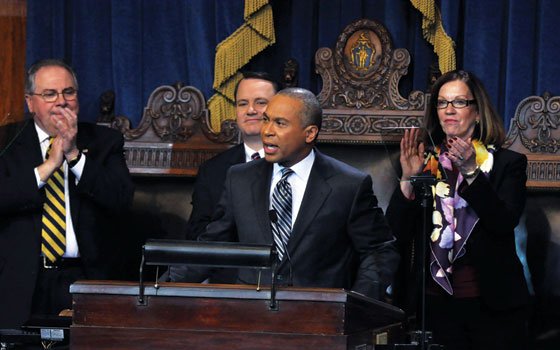 While successful efforts at education, ethics and transportation reform marked his first term, Patrick faces not just continuing budgetary and economic challenges but also the thorny issue of bringing destination casinos to the Bay State, an issue that died in the closing days of the last session of the Legislature.
In keeping with the more subdued tone of this year's swearing-in, Patrick's campaign committee passed up on an inaugural ball in favor of a more diffused celebration at the Boston Public Library in Copley Square, where several thousand revelers seemed not to have read the memo about toning down the festivities.
As Patrick, wearing a tuxedo with a red vest, worked the rooms with his wife beside him in a black sequined ball gown, celebrants crowded in upon the First Couple, jostling their security detail in efforts to hug, kiss, shake hands with, and jawbone with the popular governor.
For a Bay State political event, the crowd was unusually diverse, in keeping with Patrick's success in breaking down the racial barriers to the Corner Office.
Iona Black, a chemistry professor from North Shore Community College, praised the governor's leadership during tough fiscal times. "Whatever tough decisions he has to make, they will be fair ones," she said. "He operates with integrity and honor and for me that's the most important."
Chuck Cobb, an attorney and political activist from Newton, said Patrick grew into the governor's office during his first term and predicted even stronger leadership in the second. "He needs to continue to re-establish the stature of the governor's office that was weakened by so many years of ineffective Republican governors," said Cobb.
Any memories of Patrick dust-ups over drapes or luxury rides — the nagging negative stories of his first months in office — seemed long forgotten by the hordes crowding tables in the Main Reading Room to grab handfuls of Nantucket oysters and Hampden County boutique cheeses.
An animated Liz Weir, a North Dakota native working as a wind developer in Boston, gave Patrick kudos for his work to advance green energy in the Commonwealth, especially his work on Cape Wind, a 130-turbine wind farm slated for construction in the waters off Cape Cod.
"I've never been to anything like this before. It's so exciting," she said after shaking hands with Patrick and posing for photos with the governor and Lt. Gov. Tim Murray. "The governor is a great proponent of renewable energy and I'm sure he'll continue to make it a priority."
Milton resident June Elam, 78, whose children attended Milton Academy with Patrick when he arrived in Massachusetts as a 14-year-old scholarship student from the South Side of Chicago, enfolded the governor in a tearful embrace as he passed by. Recalling that Patrick often stayed at her house during his school years, she proudly proclaimed herself to be the governor's "Milton mom when he was away from home."
Newbury Street salon owner Shellee Mendes, attending the celebration with several girlfriends and her husband Kyle Martin, said of the governor, "I am so happy he has a second chance to make a first impression. I know this term will be even better."
Eric Turner of Newton, who serves as treasurer of the Massachusetts Democratic Party, paused on the library's grand marble staircase and motioned at family members beside him. "This is what it's all about," he said. "Taking care of the kids and the grandkids the way our parents and grandparents took care of us. Like the governor said, we have to bear a generational responsibility."
South End resident Rosalinda Midence, a member of Boston's Ward 9 Democratic Committee, predicted the governor will accomplish his goals during the second term.
"Because," she added with a wink before disappearing into the crowd, "it's always better the second time around."