Partners HealthCare enhances health careers through online learning
1/4/2011, 7:06 p.m.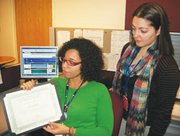 Partners HealthCare is helping employees advance in their careers and address the need for trained Allied Health professionals through online learning — an innovative model in workforce development. Partial funding for the program comes from a grant from The Boston Foundation as part of the Allied Health Initiative. The initiative addresses the critical shortage of allied health professionals and Partners HealthCare affiliates chose to pilot the use of technology as a tool to help employees prepare for careers in allied health.
Allied health careers include more than 160 types of careers including: Pharmacy Technician, Respiratory Technician and Phlebotomist. According to the Federal Bureau of Labor and Statistics, a number of allied health careers are projected to be some of the fastest growing occupations between now and 2018.
Some Allied Health careers require on-the-job training, others require certificates or degrees. For employees considering going to college for the first time or returning to college, the college experience is likely to be much different from the way it was 10 years ago.  A 2010 study by the Babson Survey Research Group revealed that some 5.6 million students nationwide were enrolled in at least one online course. The Partners HealthCare program is designed to help employees transition from traditional classroom learning to new online learning.  
Online learning can be challenging. It requires an understanding of technology and the discipline to study independently. In an effort to ease the transition to online learning for employees, Partners HealthCare launched its first online readiness course in April 2010. That single course has evolved into a program called the Online College Preparation Program (OCPP). The program includes three, two-week long courses and a career coach. It is offered four times a year. The classes are free to employees and focus on an Introduction to Online Learning, Study Skills and Time Management.
Since the program began, more than 100 Partners HealthCare employees have logged on and taken classes and dozens have gone on to enroll in an online medical terminology course offered by Quinsigamond Community College. Most who took this class, finished it with a B or higher.
Kathryn Decelles, Partners HealthCare career coach at Mass General Hospital, sees first hand the effect of the program. "These classes are a path to college and enhanced careers for employees. They build confidence and skills in digital learning — things students say they never thought they'd have."
Mariela Baez, an executive secretary in OB/GYN at Brigham and Women's Hospital took both the online college prep classes and the online medical terminology course offered by  Quinsigamond Community College. She said, "When I signed up for the online courses, my immediate goals were to improve my time management and study skills in an academic setting. At first I was skeptical about how an online platform would help me achieve these goals, but was surprised by the results. The prep course introduced me to techniques and then gave me the chance to apply them." Baez applied her new skills acquired through the online college prep courses and attained an A in the online medical terminology course at Quinsigamond Community College.