Officer still awaiting his day in court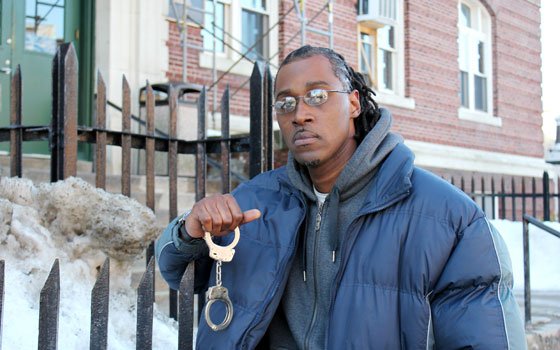 Thomas Connolly could not be reached for an interview.
Flint grew up in Orchard Park, Roxbury, and spent most of his childhood with his grandmother. At the age of 13, he lost his 15-year-old brother, James, to violence. Several years later, Flint graduated from South Boston High School and moved on to Northeastern University, where he set out to study theater. But after a year of college, he quit to work and support his young son. Flint now has two sons, ages 20 and 23, and lives with his girlfriend and her two daughters in Roxbury.
Flint says that he loved his job as a court officer, mainly because he loves working with people. And, being a court officer, Flint met Bostonians from all walks of life.
 After his termination, Flint filed a claim with the MCAD, but has yet to receive the results of its investigation. Barbara Green, press liaison for the MCAD, said the case is being "actively investigated," but that the state agency "[doesn't] ever give a timeframe."
 But Flint's accusation of the court's racism goes deeper than this one incident. On many occasions, in the absence of the deputy chief, white court officer Donohue was put in charge. According to Dilday, this goes against union rules, which state that in a superior's absence, command goes to the court officer with the most seniority. With 20 years of experience, Flint should have taken charge, not Donohue, who had just three years under his belt.
Last year's investigation into State Probation Commissioner John J. O'Brien revealed the probation department's deep-seated corruption and political favoritism. Flint says he believes that similar favoritism plagues the court security system — and that the O'Brien investigation opened the door for people to speak out against it.
For now, Flint is living off unemployment checks, searching for a new job, and trying to fight against the injustice he feels that has cost him his job. He has written letters, asking the help of local politicians, media outlets, and even the NAACP, but is still waiting for the chance to tell his side of the story in court. Until then, he takes solace in the comfort and strength of his family, without whom he said he never would have endured this trial.
"Truth is the truth even if no one agrees," he says he reminds himself daily. "And a lie is a lie even if everyone agrees."