Michael Oher shares flip side of "The Blind Side"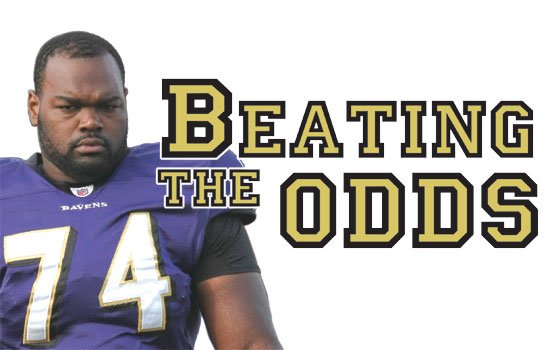 I've always been connected to them and maintained those relationships. That scene in the movie was just Hollywood.
What do you think can be done on the national level to increase awareness about the size of the foster system in America and to help kids caught up in it?
As you know, I put a lot of the unfortunate statistics in my book. But there are a ton of us who've been through the foster care system who are successful. Basically, I hope I've started something by putting my story out there. Now we need others to share their stories and let everybody know what the real deal is and that it is possible to beat the odds.  
You have a personal story that seems like the stuff of an epic saga. Where do you weigh in on the relative importance of destiny, luck, and perseverance?
All of them are important factors. I'd say you need all three.
What was it like being black and joining a white family?
That really wasn't a big deal for me, although obviously there were some adjustments, since the Tuohys had a different lifestyle from what I was accustomed to. But there was a lot of love, and that's what helped to spark a great relationship.     
Are you still close with the Tuohys?
Yes, they're still family. We talk every day, and they come to every one of my games.
Do you have any contact with your birth mother?
We're not as close as we used to be, but hopefully, we'll get back to where we once were in the future.  
Do you have a message of hope for kids and young people who are in a similar predicament to the one that you were in?
Like I said before, you don't need to win the lottery or for somebody to come save you. I'm a living testimony to that. If you want to do it, it is possible.   
Your story is incredibly moving and it's a joy to see your success. Many African American youth who have not been blessed with the same good fortune of a loving adoptive family and benefactors suffer from an incredible achievement gap, mostly due to lack of educational opportunities. How do you think we can help them?
By devoting the time to sit down with a kid, one-on-one, and just letting them know that they can do it. That's all that it takes, giving them the confidence.
Your story is not just about beating the odds; it's nothing short of a miracle. Can we engineer miracles — without the help of angels?
That's the same as asking do you believe in God. Of course, we all need angels. I had to have one over my head throughout my life, even right now. The odds of my making it were slim to none. So you have to have an angel. You have to believe.  
Do you plan to be a foster or adoptive parent?
I can't say right now. I'd have to see down the road. But I'd love to look into it and, hopefully, save a life as well.
What would be the one thing you would most like to change about the foster care system?
I think there's a need for more oversight by social workers, because there are a lot of foster parents who are just collecting checks. They need to look closely into the backgrounds of the people whose hands you're putting the kids into and then continue to monitor them.
Is there any question no one ever asks you, that you wish someone would?
Are you happy?
Very.
When was the last time you had a good laugh?
I have a good laugh all the time. Very often.
What was the last book you read?
"I Beat the Odds."
To order a copy of I Beat the Odds, visit www.amazon.com/exec/obidos/ASIN/1592406122/ref=nosim/thslfofire-20.