Letters from Thurgood: Segregation is Un-American, too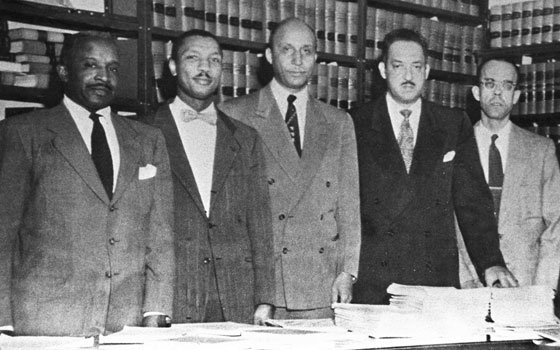 "On the question of timing," he continued, "it should also be noted that immediately after the Hollywood writers were cited for contempt, the Hollywood producers had every script in production and ready for production checked as to references to Negroes, and all decent references to Negroes were stricken from the scripts. This is not hearsay but comes from a confidential report from an investigator for Time magazine."
White was not pleased when he learned the independent-minded Marshall had filed a brief in the case, despite the NAACP-LDF board's vote to stay out of it.
"Is it true that the NAACP filed a brief amicus in the Hollywood Ten case?" an irritated White opened a Nov. 16, 1949 letter to Marshall.
Because three Communist front groups had also filed briefs, White argued that defending the Hollywood Ten "has done us no good." He said other Hollywood types resented that Marshall had identified the 10 "as the only ones who have worked" for the "more decent picturization of the Negro on the screen." White's assessment was that, except for a few speeches made by one, Dalton Trumbo, "all the accused have rendered only lip service while non-communists have made pictures like "Home of the Brave," "Lost Boundaries," "Intruders in the Dust," "Pink" and other pictures and documentaries already made or to be made."
Marshall's defiance in filing the brief, White wrote, "has materially lessened the influence of the NAACP in Hollywood."
Long, editor of "Marshalling Justice," says in a note that Marshall ignored White's contention that he had violated a board decision.
Besides Trumbo, the members of the Hollywood Ten were Alvah Bessie, Herbert Biberman, Lester Cole, Edward Dmytryk, Ring Lardner Jr., John Howard Lawson, Albert Maltz, Samuel Ornitz and Adrian Scott.
In 1947, Marshall had sent a memo to Roy Wilkins, then White's assistant, citing revisions in two unidentified scripts to back his assertion that the House committee's "interpretation of 'communist propaganda' is anything in opposition to the status quo of the country as demonstrated by the well-known stereotypes " about black people.
In the first example, Marshall wrote on Oct. 30, 1947 that one script initially contained "a line providing for a white actress to call a Negro actress 'Mrs. Bigby.' This has been changed so that the Negro actress will be called by her first name." In the second instance, "a white actress, in talking to a Negro actor at a race track, asked him to give her the name of a horse to bet on, and he was to reply very politely, 'Madam, I do not know anything about horse racing or gambling.' This line has been struck out entirely."
Starting at least in 1940, Marshall had other ideas about what kind of "subversive activities" the predecessor to House Un-American Activities Committee, then known by the last name of its chairman, Texas Representative Martin Dies Jr., ought to be investigating. As the panel prepared for hearings in Dallas, Marshall wrote to Dies, a Democrat, to suggest expanding its probe beyond alleged Communists to perpetrators of racial violence in the city against a black juror who was assaulted in the county courthouse and homeowners who had moved into previously all-white neighborhoods.
"We strongly urge that this investigation include the activities of the Ku Klux Klan and other groups active in Dallas County," Marshall wrote on Sept. 27, 1940. "If your committee proposes to hold hearings in Dallas and is sincere in its efforts to investigate 'subversive' activities, it seems that it should investigate the brazen invasion of the constitutional rights of Negro citizens by certain groups in Dallas."
Long, the book's editor, does not indicate whether Dies responded and, if he did, what if anything the committee chairman said about Marshall's recommendation to turn the investigative power of Congress on a resurgent Ku Klux Klan.
Kenneth J. Cooper, a Pulitzer Prize-winning journalist, is a freelancer based in Boston. He also edits the Trotter Review at the University of Massachusetts-Boston.