Berklee College of Music Signature Series: 'Songs of Richard Smallwood'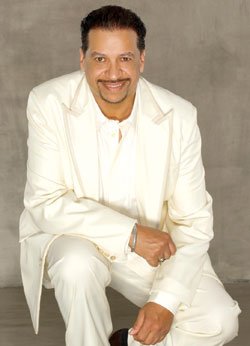 The Berklee College of Music Signature Series presented last week "Songs of Richard Smallwood," conducted by Berklee student Rashad McPherson and produced by the Africana Studies department. A singer, songwriter, producer and minister,  Smallwood is a six-time Grammy nominee and Gospel Music Hall of Fame inductee.
Best known for hits like "Center of My Joy" and  "Total Praise and Healing," the Howard University alum's refreshing style of gospel mixes classical, RandB, soul and pop. The Smithsonian honored him for being a gospel innovator and songwriter and he won a Grammy for his work on Quincy Jones' gospel project Handel's Messiah: A Soulful Celebration.  His faith-focused music crosses genres and generations.
Destiny's Child, Whitney Houston and Boyz II Men are just a few of the artists who have recorded his songs.
An avid user of social media, Smallwood regularly checks his Facebook and Twitter pages to connect with fans. The day after the concert, Smallwood tweeted his thanks via Twitlonger to McPherson — composer and arranger for gospel group Divine Purpose — for presenting his work. He also encouraged McPherson to continue pursuing his dreams.
A day before last week's show where Smallwood shared the stage with Berkelee's faculty and students, the Bay State Banner had a chance to talk with him about music, perseverance and a fan that touched his heart.
How did you become involved with the Berklee College of Music Signature Series?
They got in touch with me. I was up there a number of years ago and I think there was a blizzard. I always admired the work they did in music and training. They're so diverse.
Did you ever struggle with writing and producing secular music?
Certainly. I did secular music for a while in college. I never had an issue with other genres of music. However, I know I was called [to perform gospel]. I believe we are all here for a certain purpose.
I read that you have a degree in divinity. Do you preach when you're not traveling?
I do preach. When I'm traveling and when I'm not traveling! It's a calling I ignored for a little while until the Lord brought me around.
It is said to whom much is given much is required. Have you had a moment when that scripture became a reality for you?
Oh yeah. I'm reminded of that almost daily. A lot goes on in the gospel music industry. Most people see it as glamorous. But it's not that at all. It's a lot of hard work, sacrifice and disappointment. When you know you're called, God has your back and is in control. He never sends you without first equipping you.
Were you ever pressured by music executives to change your style?
Not really anymore. In the beginning people didn't really understand the classical influence in my music. I was told it's not commercial. No one would buy it.  I was also told I couldn't write. They want you to be a carbon copy of someone else. It hurt, but I kept plugging away at it. Years later, the person who told me I couldn't write asked me to write some songs for him.