District 7 campaign pulls crowded field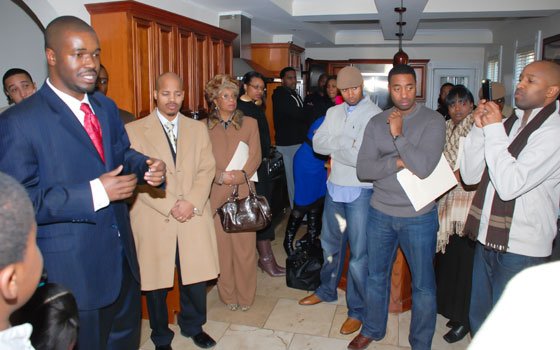 He also wants to focus on entrepreneurship by encouraging and supporting small businesses, as well as keeping the money that is made and spent in the community.
To date, Mills has raised approximately $7,000, with a significant portion of this coming out of his own pockets. "I've been putting my own money where my mouth is in terms of financial support," Mill said. "But I'm optimistic and I see it as a sacrifice."
He has a field crew of approximately 40 volunteers throughout the district; and a staff of six advisors, including a treasurer, a fundraising chair and someone working on his senior development work.
Mills is very clear on what his priorities are as a city councilor. He understands that as a councilor he will not pass laws, but will be an advocate for the district's needs.
"As a city councilor," he said, "my hope is to be a hands-on leader who is on the streets, in the community and on the ground, dealing with the residents' issues. Everyone talks about having a district office, but what I would prefer to do is to partner with different churches and community groups and have a roving office where I post a calendar online and people can find me at a given time in a particular location."
Althea Garrison has been a resident of Boston for more than 40 years. She attended Newbury College, Suffolk University and Harvard University. Her professional experience now includes a 23-year post as vice president of the Upham's Corner Health Center. She is also a former state representative and sat on the election committee then, helping to pass the first law in the nation for mail-in voter registrations.
Garrison said that she is in favor of old-fashioned politics. And education. "I think any one that is concerned about education should have an education themselves," she said.
She supports job creation and economic development for District 7. "We don't have a lot of jobs in the district and I am for creating jobs and giving businesses tax breaks, provided that they create a certain number of jobs in the district."
Her campaign has not raised a lot of money, but she said this race is not going to be about money. "In the end, the people will elect the person that has done a good job and who deserves to be elected." With four dedicated volunteers, she says that her campaign depends on being totally grassroots.
Natalie Carithers was born and raised in Boston. It was while working for state Rep. Willie Mae Allen that she began to start thinking seriously about entering the political arena. She served as Allen's legislative aide.
As a member of Delta Sigma Theta Sorority Incorporated, Carithers holds a seat on their national committee. She also served two terms as president of her chapter, and belongs to the Boston section of National Council of Negro Women, the NAACP, the Eastern Stars and the Women's Pipeline for Change, which educates and supports women of color as they run for political office.
On crime, Carithers wants to increase the number of available crime watch groups in the district, and do so street-by-street and neighbor-to-neighbor. "Our neighbors must feel free to release information. I don't like to say 'snitch.' I like to say 'tell the truth' about what is going on."
And that means working with police when necessary. "We have a very strained relationship, and we need to work together," she said. "We need them to solve this problem. We can't do it on our own."
Improving education is also a top priority. "If our schools are underperforming, then why are they under-performing?" she asks. "It's not just the children. It might be the teaching style that our children are not grasping …We are diverse and we learn diversely."
Carithers said she wants to build a skillful workforce in the district by advocating for more programs to prepare citizens to take on and succeed at jobs.
"Our greatest resource, is human resources," she said.