Strides made at second meeting on Melnea Cass Blvd. design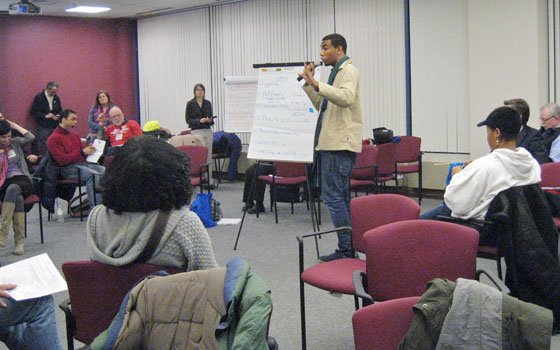 When the groups presented their findings at the end, public safety for pedestrians and an inviting, aesthetically beautiful design emerged as key goals.
At the meeting's close, the design team gathered up the flip chart sheets full of ideas. The consultants clearly have their work cut out for them to create a cohesive design plan that melds the larger transit considerations with the public input. Discussions will continue after the holidays, with the next public meeting likely to be in late January or early February.
Rushing and State Rep. Gloria Fox, who were vocal about their discontent at the previous meeting, both said this meeting was far better.
"I think they did a good job of bringing everything together," said Rushing. He only expressed disappointment that many of the people who were at the first meeting were not present to see the improvement.
Fox said that not only was the history left out of the previous meeting, but elected officials were not briefed beforehand. "[But] this time it was resolved, in a very positive way, and we felt connected with the process enough to make recommendations," she said.
"This is historic," she emphasized. "We've gone from the negative, to the positive, to the long-term planning. This is part of a long movement that's continuing. We have to be community planners — but most community members don't believe they are. Then they get into a meeting like this, and they realize they're the only ones who can do it. Because they have to live with this."