With the acquisition of John Axelrod's collection, the Museum of Fine Arts' holdings now represent almost every major African American artist of the past 150 years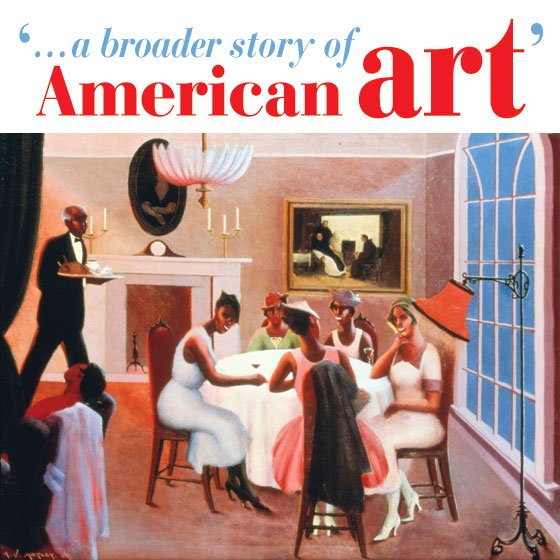 With the Axelrod acquisition, the 1948 Cortor meets its mate, "Environment" (1947). Both share surreal, memory-laden imagery, thickly encrusted pigments, and the artist's original frames of distressed wood.
Evoking African statuary, an elongated female figure is central to each image. In the 1947 painting, she wears a polka-dot dress and roams a dreamscape that juxtaposes interior and exterior layers of a dismantled house. In the 1948 work, the figure is a nude reflected in the mirror of an old dresser that resembles a votive shrine. The hem of the polka-dot dress peaks out of a drawer.
 Forming a triptych, the pair of paintings flanks a much larger canvas by Cortor, "Still-Life: Past Revisited" (1973). A weightless alarm clock dangles from a cord, a hoarder's delight of wood furniture hovers in a towering stack, and vintage necklaces drape over a mirror. Despite the absence of a human figure, the scene bursts with life.  
In "Big Wind in Georgia" (ca. 1933), an oil painting by Hale Aspacio Woodruff, a cyclone-force storm sweeps a mule, an outhouse, fencing and uprooted trees into a churning spiral. Like the landscapes of Missouri native Thomas Hart Benton, Woodruff's image also evokes the social turbulence of its time, the era of the Great Depression, looming war in Europe and a series of natural disasters.
"We're still unpacking the meanings of these works," says Davis.  
All is still in the monumental "Shotguns" (1983-86) by John Thomas Biggers. Witty and solemn at the same time, the drawing builds an intricate grid out of an iconic structure — the long, narrow cottage once common throughout the South. Resembling the rounded, stylized figures of Mexican muralist Diego Rivera, large women in checkered dresses fill the doorways like pillars. Marching behind these silent totems are endless rows of triangular rooftops.  
A step closer to abstraction is Beauford Delaney's "Greene Street" (1940). With thick, bright pigment and bold lines, Delaney turns his low-rent corner of Greenwich Village into an exuberant crossroads of directional arrows, lampposts and traffic lights.
Axelrod, 65, first encountered paintings by African American artists at the Michael Rosenfeld Gallery in New York. "It was love at first sight," he says, talking by phone from his Back Bay home.
During the '20s and '30s, Axelrod notes, African American artists were off the grid of the institutional art world. "Galleries weren't showing their works or producing exhibition catalogues, which is part of the material that is used to create art history," says Axelrod, a former businessman who grew up in Andover and graduated from Harvard Law School.
As a collector, Axelrod focuses on undervalued works. His current passion is early '80s graffiti art from New York's Lower East Side.
A vigorous promoter of diversity in the MFA's collections, organization and outreach, Axelrod is pleased that his extraordinary finds have helped the museum close a major gap in its holdings.  
"I'm so happy to see these paintings on view," says Axelrod. "Works by African Americans are important to a museum of great American art. You can't have a great American art collection without these artists."