Jake T. on the Q.T.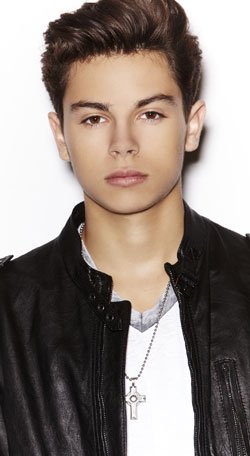 What message do you think people will take away from the movie?
I think it's a movie that delivers a message of hope and love, but it also has dramatic threads throughout. I think that people will be inspired and thankful for what they have.
What are your plans for New Year's Eve this year?
Honestly, I just want to be around my family and friends at home in New York.
Can we expect any surprises for your character Max Russo on the final episode of "Wizards of Waverly Place"?
I don't want to give too much away! I will say that there will be a lot of surprise guest stars coming back to visit.
What was it like working with Selena Gomez?
She's amazing! I love Selena, a very sweet and kind individual with phenomenal talent.
What do you think "Wizards" meant for your career and your life?
"Wizards" was an experience I'll never forget. It kick-started my career in acting and introduced me to an amazing family on the set.
Are you good friends with all the cast and crew from "Wizards"?
I'm good friends with everyone who worked on "Wizards," when you spend that many years working together it's hard not to be. They are a group of really incredible people.
You just finished filming "Tom Sawyer and Huckleberry Finn," where you'll be playing Huck. What was that experience like?
Amazing. Working with [co-star] Joel Courtney was incredible. He's a great actor and a great person. And it was so exciting to be re-making such a classic as well.
Did you like making that film overseas in Bulgaria?
Bulgaria was incredible! It was great to be able to travel for work. 
My whole family came and visited and we got the opportunity to travel around a bit. My little sister loved it there!
When did you first know you wanted to be an actor?
I would watch old movies when I was a kid, about 7 years old, and impersonate the actors and put on little skits for my family, I think that was when.
Can you tell me about some actors that you respect and look up to?
Robert De Niro is someone I've always looked up to, so it was amazing to get to meet him on the set of "New Year's Eve." Martin Scorsese is also a hero of mine.