Backstories amplify A.R.T.'s 'Porgy and Bess'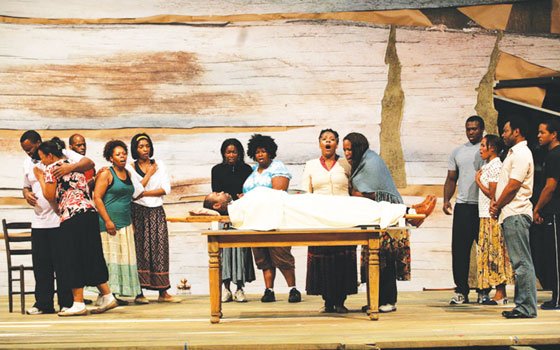 For her part, Hill knits onstage as an ongoing activity. Moran noted another supplement to the sense of community — the benefit of the actors' own family members. Referring to children backstage during rehearsals, she remarked, "The tenderness we feel backstage [toward them] translates onstage."
That tenderness is most personal for Williams: Her daughter McKenzie Christina is playing Clara's daughter, and son Nile Christopher serves as an alternate.
"There are many husbands [of performers] at rehearsals," she added. Moran also summed up the backstory efforts of Parks. "Suzan Lori has given one of the characters a parent, a mother," she noted. "It kind of humanizes. We didn't spring from nowhere."
Hill concurred. "There are siblings," she said. "There are changes."
Williams praised the "collaboration of Parks, Paulus and the cast." "The work that we're supposed to do at home together [about our respective roles], we did together," she submitted. "We don't usually have the luxury of this kind of character work," she stressed.
Hill added that back story is provided even for a pivotal character like murderous stevedore Crown (played by Phillip Boykin) with whom Porgy vies for Bess. "He's more than just a bad boy," she offered. "'You have a backstory.
Considerable care has been taken with dance as well. Here noted choreographer Ronald K. Brown, Moran observed, "put a psycho-physical overlay on the men protecting aspects of the characters' manhood."
She credited him for expressing parts of the women and the men's roles in their stage moves. There is even dancing at a funeral to go along with a tradition of reverential music. Daniels pointed as well to a sparseness of movement quite often as characters speak — unlike in opera, where performers often pass many people in a scene.
"This is drama-driven," Hill concluded approvingly.