After long struggle, MLK has home on National Mall
Associated Press | 8/23/2011, 9:47 p.m.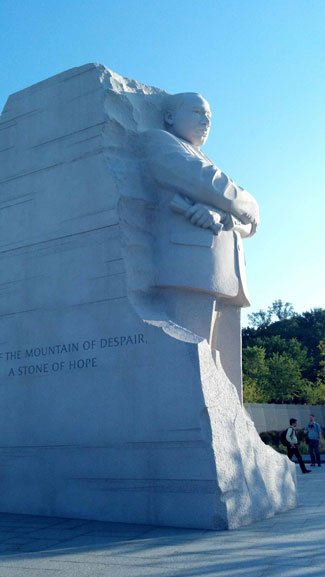 "He was one of the most hated men in America. He was considered an enemy of the government," she said. "And here we are 40-something years later, and he's being honored in this way by our nation. ... So it certainly speaks to the magnitude of some of the progress that we've made in the area of race relations."
The family has guarded King's memory closely. While Coretta Scott King was an early champion of the memorial, the family's efforts to seek fees from its fundraising briefly stalled the effort in 2001.
Later, the family secured an $800,000 licensing deal for use of King's words and images in fundraising for the memorial. After The Associated Press revealed the unusual arrangement in 2009, Bernice King and Martin Luther King III said they weren't aware of the details.
They said the deal was mishandled by their brother, Dexter King, but was meant to benefit the King Center, which has struggled with funding for repairs at the site where King is entombed.
At the time, Intellectual Properties Management, an entity run by King's family, told the AP that proceeds it receives would go to the King Center out of concern that fundraising for the monument in Washington would undercut the center's donations. Some donors and scholars still bristled at the deal.
King's family has sued media companies for using the "I Have a Dream" speech without permission. Lawsuits also have been filed among the siblings over control of the estate.
Infighting and leadership troubles also have hobbled the Southern Christian Leadership Conference, which King helped found following the Montgomery bus boycott in the 1950s and played a major role in fighting segregation. Martin Luther King III was president from 1997 to 2004.
In 2009, Bernice King was elected president but eventually declined to take office over differences with the board. Some called for the group to disband. This month, the group named King's nephew, Isaac Newton Farris Jr., as its president.
For all the troubles from concept to construction, King's contemporaries said the memorial captures his message for a new generation, and it has drawn tears for many when they saw it for the first time.
Congressman John Lewis, who met King as a teenager and is the lone surviving speaker from the 1963 March on Washington, said the statue is the best likeness he's ever seen.
"He's not looking down, he's looking straight ahead," Lewis said. "Dr. King was an emancipator, he was a liberator. He liberated not just a people. He liberated a nation. His ideas, his message of peace and love are still liberating people. I think people will come from all over the world to be inspired to go out to act, to do something."
When the Rev. Harold Carter, pastor of Baltimore's New Shiloh Baptist Church, saw King's statue for the first time, he was awestruck.
"Oh, God. You got him," Carter said, looking up to King's face, along with more than a dozen other pastors from the District of Columbia, Maryland and Virginia who helped raise more than $1.5 million for the project from their congregations.
"This is a king among presidents," said Joe Ratliff, pastor of Houston's Brentwood Baptist Church, who was with Carter's group. "That's what I think every time I see it."
Andrew Young, the former Atlanta mayor and U.N. ambassador who was an aide to King, has taken multiple trips to track the monument's progress.
"The first time I saw it, I broke down and cried," Young said. "It's so beautiful. It's such a fitting statement.
You know, he was always self-conscious about being short. ... Now he's a giant of a man. Isn't that something?"
Associated Press