After long struggle, MLK has home on National Mall
Associated Press | 8/23/2011, 9:47 p.m.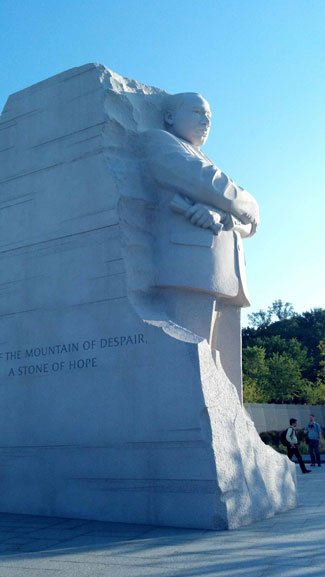 Early tours of the memorial by church leaders and civil rights veterans gave Jackson a sense of affirmation he made the right choice.
King's likeness rises a full 30 feet to watch over the memorial landscape. The 1964 Nobel Peace Prize winner stands with his arms crossed, carved from a "stone of hope," looking toward the horizon. The central theme is King as a symbol of hope emerging from a boulder — a "mountain of despair," as King said in his 1963 "Dream" speech.
Visitors pass through a narrow opening in the "mountain" to symbolize the struggle for civil rights before entering an open plaza. They won't discover King's statue right away.
Designers intend for waterfalls to draw visitors to either side of the plaza to first see curving granite walls carved with 14 quotations from King, none of which is from the "Dream" speech — organizers said they wanted to focus on some of King's powerful but lesser-known words, such as his Nobel acceptance remarks and his "Letter from Birmingham Jail."
Originally, Jackson planned to fill the plaza with magnolia, pine and crepe myrtle trees to tie the landscape to the son of Georgia. Later, he learned Washington's famed cherry blossoms reach full bloom each April at the time when King was assassinated, so the design was changed to include 185 cherry trees.
The granite for King's statue was chosen because when lit at night, it lends a brownish tone to King's likeness. The stone, however, only exists in China, Jackson said; some wanted it to come from the United States.
King's statue stands taller than other human figures on the mall, though it does not seem overwhelming, said Thomas Luebke, an architect who serves as secretary to the U.S. Commission of Fine Arts, an agency that approved the design. The memorial to King puts him squarely between those of Thomas Jefferson, who espoused ideals of equality but was a slave owner, and Abraham Lincoln, who freed the slaves in the Civil War.
"It's nicely situated between the Jefferson and the Lincoln Memorial, so it's part of that conversation" he said. "That corner of the mall has started to have a little bit of a theme about the ideas of our democracy between Jefferson, (Franklin D.) Roosevelt and now King."
Eventually, Jackson hopes to add King's voice to the visitor's experience by introducing iPads or other devices with educational features and recordings of speeches while people walk through the plaza.
"Dr. King came along right at the height of the television era," he said. "So we can take advantage of that."
Soon after King's assassination in 1968, his widow, Coretta Scott King, established the King Center in the basement of the couple's Atlanta home to preserve his legacy.
Now located near King's birthplace, a national historic site, it has become one of Atlanta's most popular tourist attractions. Though Coretta Scott King did not live to see the King Memorial become a reality, her relentless efforts were the catalyst for such a project, said their daughter, the Rev. Bernice King, especially given the country's feelings about her father during his life.