After long struggle, MLK has home on National Mall
Associated Press | 8/23/2011, 9:47 p.m.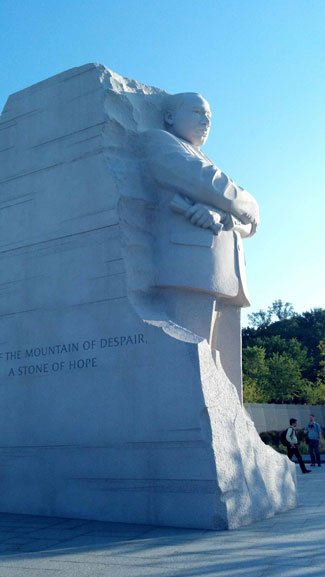 On the 48th anniversary of the "I Have a Dream" speech, a towering memorial will honor the Rev. Martin Luther King Jr. as a man of peace among the many monuments to wars and presidents in the nation's capital. The road to this weekend's dedication, however, has run through hurdles of all kinds — not unlike the long struggle over King's legacy itself.
Since King's death, there have been financial worries at the King Center in Atlanta, and legal fights over the use of his image and words and over control of the civil rights organization he co-founded.
Many people wanted to help shape King's bricks-and-mortar legacy as well, the first memorial for a black leader on the National Mall. There were skirmishes over who would sculpt King's likeness, where the granite would come from and who would profit from the mammoth $120 million fundraising effort as the family demanded a licensing fee to support its Atlanta priorities.
Overall costs for the memorial rose over time, and the government demanded tougher security amid threats of domestic terrorism, dragging the project 15 years from the time Congress authorized it in 1996 and 27 years from when King's fraternity first proposed it.
Lesser hurdles have halted others who aspired to build monuments on the mall.
"We have persevered," said Harry Johnson, a 56-year-old Houston attorney and Alpha Phi Alpha member who for the past 11 years led an effort that culminates Sunday with a massive ceremony featuring President Barack Obama. "Even though we've had dark days and dark clouds, we were able to always see a silver lining in the sky, knowing, understanding and believing it was always going to happen."
One of the darkest days was 9/11, Johnson said, because the memorial foundation was set to go public with its fundraising campaign but had to put plans on hold as the country recovered. Then came the Asian tsunami, Hurricane Katrina and other disasters, plus an economic downturn, all of which made raising donations even more daunting.
Race, too, was a factor in the struggle over how the memorial would be conceived.
The surprise selection of a Chinese sculptor for King's statue in 2007 eventually drew protests. A black painter launched a petition to try to force a change, saying black artists should have first rights to interpret the memory of the man who did so much for his fellow African Americans. A bronze sculptor from Denver complained he was pushed aside. Human rights advocates chimed in, saying King would have detested China's record on civil liberties.
Executive architect Ed Jackson Jr., 62, who oversaw the design process for 15 years, concedes he may have been naive to think others would easily see the power of sculptor Lei Yixin's concept and the mastery of his work.
"Politics can actually change the color of your lens ... and some of the comments were out of ignorance," Jackson said.
Still, the memorial foundation maintained King was inclusive of all people and never wavered from the selection of a Chinese sculptor. Jackson said he tried to insulate Lei, even as a federal arts panel criticized the design as too "confrontational."