Essence of Carnival, Trinidadian style
Yawu Miller | 8/18/2011, 4:08 p.m.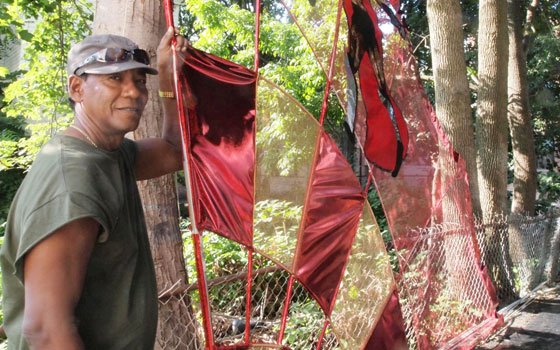 In the basement of Phillips' house, an arsenal of costumes await the dozens of TnT dancers who will fill out the band.
"One of the greatest costume designers, playwright Peter Minshell, said Carnival is like theatre on the streets," Blaize says. "It really is."
Boston's Caribbean Carnival, founded in 1973, is a much tamer version of the Trinidadian Carnival it was fashioned after. In Trinidad, Carnival is celebrated before the beginning of Lent in Februrary. Soca artists compose hit records for the carnival.
And the groups competing in Carnival invest big in their costumes. Blaize says his Tsunami design cost 75,000 Trinidadian dollars, which comes out to $12,000 U.S.
Trinidad's carnival is only rivaled by that celebrated in Brazil. But, as Blaize points out, the Brazilian costumes aren't as elaborate as the Trinidadian ones.
"We basically carry the costumes," he says. "In Brazil, they make floats and put them on a truck and they have women dancing around it. We are a little more innovative the way the dancers portray the costume."
Blaize, who worked his entire life in the marine industry, remembers one incident where his boss at Petrotrin, the nation's petrochemical company, complained of his weeks-long leave from work he used to design and build carnival costumes.
"They said it was affecting my job," says Blaize, who worked as marine operations coordinator for the firm.
Blaize took his case to Trinidad's minister of culture, who got the Trinidadian government to intervene on his behalf.
"They couldn't stop me because of government intervention," he says. "But I couldn't get a promotion after that. They said all I think about is Carnival. They were right. My love for the art kept me afloat."
Blaize, who has since retired, now works unencumbered by bosses. His designs have won numerous first place awards in recent years both in Trinidad and at Trinidad-style carnivals here in the U.S.
Working in the TnT mas camp, Blaize says he finds relaxation amid the chaotic assemblage of fabric, steel, fiberglass and glue.
"This is therapy," he says. "There is so much to do, but you have one picture in your mind. Nobody else really sees it. They see the pieces. You have to hold that vision. At the end, you see it and you say 'aah, that's it.' "