Cross Cultural Collaborative promotes Ghanian exchange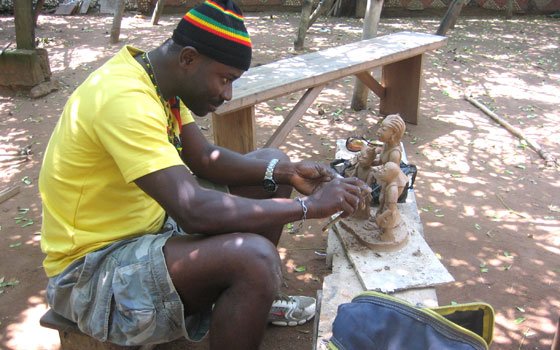 Schimelman has done a great deal of work in Ghana. Slowly and meticulously she has built the Aba House and continues to diversify the programming offered. She is careful with how she spends money and her tight grip on funds has earned her a reputation of being miserly among Ghanaians.
"They have a word for me. They call me 'chisley' because I don't just give out a lot of money," said Schimelman.  
Over the years, the neighboring Ghanaians have come to trust and respect her even though they think her approach to accomplishing things is different.
"The Ghanaians think I'm spontaneous. I'm not spontaneous, I'm just too old to sit around and wait for things," Schimelman said.
Along with her work with the Collaborative, she is a co-founding member of the Cambridge Artists Cooperative. She gave up her pottery business and teaching to create a space in Ghana for artists, and funnels most of her energy and money into the Aba House. But, she can't do it alone. Good Ghanaian friends and contacts help keep the organization afloat. From tour guides to volunteers, Schimelman has a small cadre of supporters who believe in the organization's purpose.
"I have a house manager [at the Aba House] who's astute. Ghanaians pay attention to what you're doing and if they approve, they'll help you," said Schimelman.
Still, Schimelman wants more.  The Collaborative needs help to make the program more dynamic. She and her colleague Dan Goodman, director of outreach and partnerships development, are hoping to get more students involved through co-ops with universities and create partnerships with local businesses and non-profits with similar ideologies. Working professionals that decide to travel to Ghana usually stay about two weeks, but students can do a whole summer or semester if they choose.
Though the decision to keep going back to Ghana was a difficult one to make, Schimelman claims she is right where she wants to be.
"When people ask me what I do, I tell them I'm a hustler. I hustle to get people to Ghana and teach them about it," she said. "But, the best thing about [what I do] is that I get to interact with Ghanaians. I don't just walk around saying, I want to help people. I get to actually be part of the lives of great people."