'An Eskimo goes to Harvard'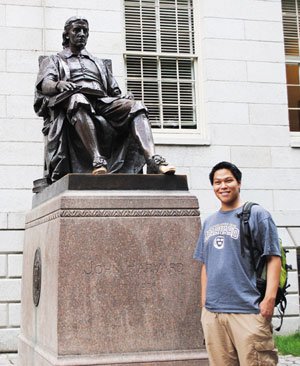 It was not until roughly 50 years later that Matthew Henson was welcomed to the White House by President Dwight Eisenhower in recognition of his contributions to the North Pole discovery. However, upon his death in 1955, Henson was buried in a common grave in New York's Woodlawn Cemetery, while Peary was buried with a magnificent monument in Arlington National Cemetery.
In 1986, Dr. Counter was exploring Northwest Greenland where he discovered that both Peary and Henson had fathered children with Inuit mothers in 1906. The two sons, Anaukak Henson (Anaukaq Allen's grandfather) and Kali Peary, were alive and well at 80 years of age in the Northern most habited village on Earth, Qaanaaq, Northwest Greenland.
Both men asked Dr. Counter to help them travel to the land of their fathers to meet their relatives, and to lay wreaths at their gravesites. In 1987, with the help of President Ronald Reagan, Dr. Counter was able to travel with the sons of Henson and Peary on a U.S. Air Force plane from Greenland to the United States, to meet their American relatives for the first time and to lay wreaths at their father's gravesites.
In the following year, Dr. Counter requested and received from the President of the United States a special order to disinter Matthew Henson from a common grave in New York City, and to reinter his remains beside those of Robert Peary with a fitting new monument in Arlington Nation Cemetery.  
In 2009, Dr. Counter fulfilled a promise to the 80-year-old sons of Henson and Peary that he would have their fathers remembered at the North Pole on the centennial of their historic discovery in 1909.
Dr. Counter traveled to the top of Northwest Greenland in April 2009 to celebrate the 100th anniversary of the North Pole discovery with the descendents of both Henson and Peary, including now Harvard student, Anaukak Allen Matthew Henson.
In keeping his promise to the sons of Henson and Peary, Dr. Counter transported a Harvard Centennial Commemorative Case/Capsule containing documents from both Matthew Henson and Robert Peary to the precise North Pole on board the U.S.S. Annapolis submarine on the morning of April 6, 2009.