Pressley launches grassroots campaign
Yawu Miller | 8/10/2011, 12:09 p.m.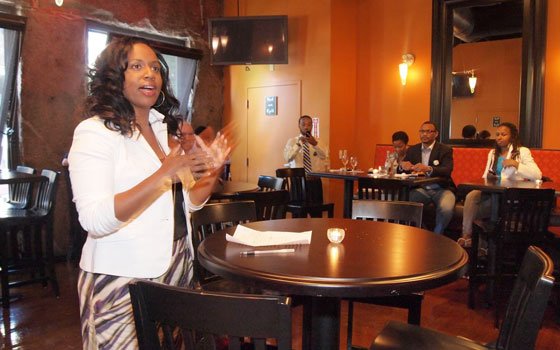 In an off-year city council race where city-wide turnout will likely be below 20 percent of registered voters, at-large City Councilor Ayanna Pressley is banking on raising turnout in some of the city's lowest-voting communities.
Blacks, Latinos and progressive whites often sit out municipal elections when there's no mayoral campaign. Pressley is asking her supporters to reach out to those disaffected voters most political strategists write off.
"We didn't subscribe to conventional wisdom two years ago and we're not going to subscribe to it now," Pressley says, rolling out the plan at a Young Professionals fundraiser she held last week. "They would have you believe that communities of color are not reliable votes, that progressives are not going to turn out. I know better."
Pressley is locked in a nail-biter contest for one of four at-large seats on the council. Her opponents in the race include fellow incumbents Felix Arroyo, John Connolly and Stephen Murphy.
With a challenge from former top vote-getting councilor Michael Flaherty threatening to oust one of the four incumbents, conventional wisdom holds that first-term councilors Pressley and Arroyo are most vulnerable.
Pressley's strategy for reaching the black, Latino and progressive white voters who vote heavily for candidates of color is what her campaign is calling to 100 club. Her campaign staff is reaching out to supporters and asking each of them to take responsibility for getting voter pledges from ten people.
At the fundraiser, campaign manager Jessica Taubner handed out packets with signup sheets, stickers campaign literature and talking points for volunteers.
"We're going to do everything we can to prove that when you show up and ask people to participate and give them a great candidate, people do participate," Taubner told the audience of more than 50 young professionals.
Pressley has spent much of her adult life campaigning for other people. She worked on staff for former Congressman Joseph Kennedy and Sen. John Kerry. Since winning election in 2009, she has carved out her own niche in Boston politics.
"She's the voice for a demographic that goes unnoticed," says Pressley supporter and political commentator Marvin Venay. "She's the epitome of a councilor for the people and she has relentlessly fought the fight from day one."
Pressley's unconventional campaign strategy is emblematic of her first term in office. Working in a body that is more preoccupied with constituent services than public policy, Pressley has championed a range of social issues including sexual assaults on college campuses, teen pregnancy prevention, sex education in Boston Public Schools and services for survivors of violence.
"I don't allow anyone to define for me what this position is," Pressley says. "I know there are critics who would argue that my agenda is too broad. They would challenge whether it's realistic to work on these issues at the city level. I believe the issues of teen pregnancy [and] survivors of violence are germane to city government."
As evidence, Pressley points to the packed hearings she held on the school department's policies toward pregnant and parenting teens. Pregnancy is the leading cause for girls to drop out of school.