'1001' is a modern twist on 'Arabian Nights'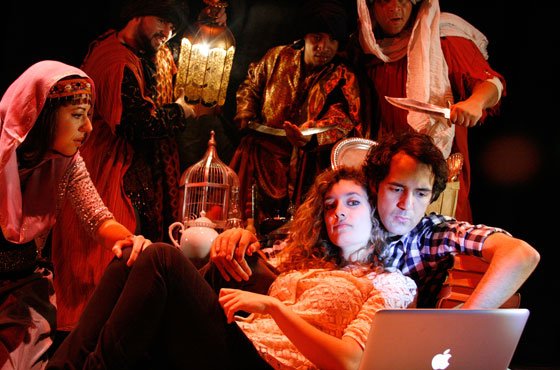 The Company One production capitalizes on the play's ironies as well as the lyrical echoes among characters and stories across millenia. The actors are cast in roles that are intriguing in their similarity or contrast to one another. Gracia, the one-eyed host, also plays Mostafa, who loses an eye from sniper fire in Gaza while protecting Alan and Dahna, his visiting friends. Early in the play, Hampton Fluker plays a Zionist heckler who taunts Dhana. Later, as a Saudi playboy in London, he courts Dhana via the Internet with her parents' eager approval.
Ruby Rose Fox injects comic winsomeness into her various roles, which include a belly-dancing courtesan and two sisters centuries apart — Scheherazade's burqa-enveloped sibling and Dahna's worldly sister back home in Kuwait.
At times, Grote's play loses its way, lingering too long on a tale of incestuous siblings and occasionally drifting into melodrama or bawdy farce. Yet even when the play strays from its surreal comic core, at its giddy best, Company One's buoyant production spins the play's blend of past and present together into a swirling, horizon-expanding journey.
Among the best episodes of time-travel is a beachside encounter between Sinbad the Sailor (Gracia) and Jorges Luis Borges, the Argentinean master of magical realism, played with gusto by Lonnie McAdoo.  
Here and at other high points in Company One's kaleidoscopic magic carpet ride, "1001" invites us to consider the stories that shape the headlines — and our lives.