'Treemonisha' showcases Boston's young talent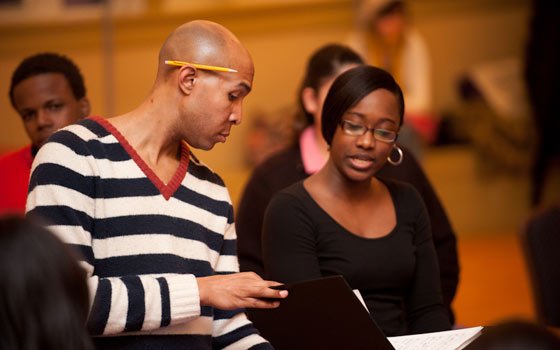 A brilliant tactic, the workshops raised awareness of the opera with teens. Opera is a tough sell to many adults, never mind video game playing, iPhone touting youth. But Martinborough succeeded in getting them excited.  
"Opera is a form of storytelling," Martinborough said. "It's about passion, love and loss. It's juicy stuff. It's alive!"
At another rehearsal a week and a half before the show, the cast is chatting over dinner during their break. Many of the students are bubbling with energy that only comes from their premiere date coming closer.
"It's really difficult at times, but I really love it," said 16-year-old Christina McDonald. She said she plays alto sax, piano and flute and wants to pursue music after high school.
The multi-talented troop doesn't seem to be worried about stage fright per se but some are thinking about performing in front of family members.
"I don't want to look at my mom. But, I know she'll say why not? I love you!" says Milan Anderson, 14, a student at Boston Collegiate Charter. Anderson just wants to make sure she stays focused on stage.
Bass Baritone Edward Ayala, 15, is a student at Boston Latin. During the break he sits on the end and isn't talking to anyone. Ayala plays the trumpet and auditioned for "Treemonisha" at his choir director's prodding. Ayala is ready to perform but feels like the group could use more work with staging and placements.
The break is over and all the laughter stops as soon as places are taken and the music begins. Like a well-oiled machine, everyone is doing his or her part to make sure the show will go off without a hitch.
"Always be kind and true, always be kind and true," they all sing with strength.
And this time, the sound fills the room.
Admission is free, but donations are encouraged. The Friday and Saturday shows begin at 8 p.m. and Sunday's show begins at 3 p.m.