Company One ensemble delivers 'Book of Grace'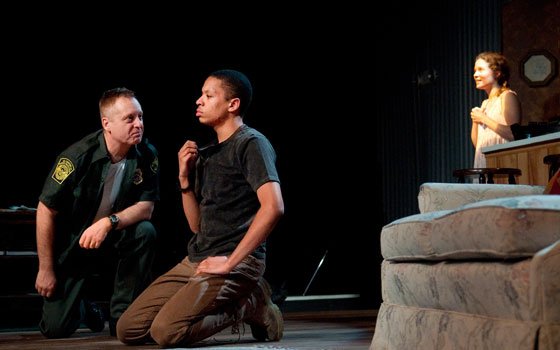 All of these are worthy questions that Parks tries to tackle in this provocative and timely yet overly busy drama. At the same time, "The Book of Grace" lacks the nuance and that helped to make "Topdog/ Underdog" a taut and more fully realized work.
Still, actors' director Wheeler (with the assistant direction of his actor son Lewis)  makes the scenes of the play — structured as chapters in Grace's on-going commitment to good things in life — absorbing from start to finish.
Steve Barkhimer catches the seething volatility in Vet but never overplays it; the result is a truly scary portrait of a bitter individual and disgruntled prototype. Jess Tolbert delineates Buddy's remarkable warmth, profound hurt and wounded integrity with the right combination of alternating energy and pathos. Equally affecting and memorable is Frances Idlebrook's appealing evocation of Grace's optimism and enormous heart even in the face of Vet's unrelenting meanness.
A fine design team brings poetic reinforcement to the play's disturbing tableau of confrontation and despair. Eric Diaz's stark but well-detailed family set works well with Jason Weber's border and Texas projections. Kenneth Helvig's subtle lighting and David Wilson's sharp sound work complete a design quartet that actually covers at times for the overly programmatic qualities of the play.
There are always good things in a Suzan-Lori Parks play. The evidence in "The Book of Grace," though, sometimes comes more from Wheeler's painstaking direction and a crack Company One ensemble than from this essential dramatist's over-written text.