Activists working to ensure fair wages at Walmart
Yawu Miller | 4/27/2011, 10:36 a.m.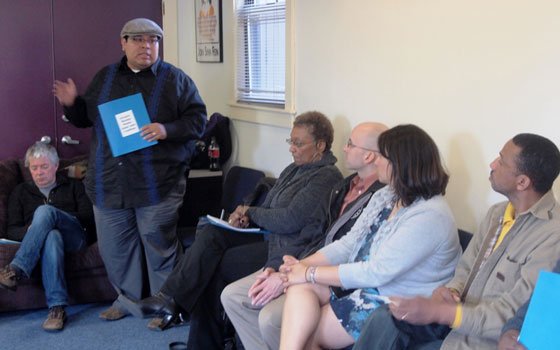 Walmart, the big box retail giant that has grown into the largest corporation in the world, has set its sights on Boston, according to labor activists who met last week with activists from the African American and Latino communities.
During the meeting, held at the Union of Minority Neighborhoods in Jamaica Plain, the activists said they want to make sure Walmart provides local workers with decent wages and benefits.
"Even though the unemployment rate is high in our community, we know people want to work," said UMN Executive Director Horace Small. "Our job is to make sure people are treated fairly."
Small and others argue that Walmart will not create new jobs in the Greater Boston area. More likely, it will put existing retailers out of business by selling groceries and other goods at lower prices.
Because it offers lower wages and fewer benefits than other retailers, Walmart would essentially replace low-wage jobs with even lower-wage jobs.
"Walmart entering the market like this would have a significant effect on our jobs," said Silvia Fabela, an organizer with the United Food and Commercial Workers Union.
For years Walmart has been known for building big box retail outlets — some as large as 260,000 square feet — in suburbs and rural areas where land is relatively inexpensive. Its closest stores to Boston are sited in Quincy and Framingham.
The corporation's apparent interest in Boston comes at a time when Walmart stores are beginning to open in urban areas across the United States — including Los Angeles, San Francisco, New York, Washington, D.C. and Chicago.
Walmart has adapted its big box model to the higher land prices in cities by scaling down its stores outlets as small as 40,000 square feet.
Fabela says Walmart has less than 3 percent of the market share in the Greater Boston area, but aims to get at least 20 percent.
The coalition aims to negotiate an agreement with Walmart mandating that the retail giant conform with local labor standards, including wages that are on par with those paid at other local supermarkets, benefits and full-time jobs.
"It's not about keeping them out," said Russ Davis, executive director of Massachusetts Jobs With Justice. "It's really about holding them accountable."
Labor and community activists in Chicago were able to negotiate an agreement giving workers there $.50 more than minimum wage after the first year of work as well as funding for job training programs in the city. It may not seem like much, but it was the culmination of five years of community groups battling to keep the retail giant out of Chicago.
Those in the room last week, including Boston City Councilor Felix G. Arroyo, representatives from the offices of councilors Tito Jackson and Ayanna Pressley, agreed to meet again to develop a set of standards they want Walmart to adhere to.
"I think the operative word in all this is fight," Small said. "Our concern has always been the community first. Knowing we're going to be taking on the biggest corporation on earth, we better come with our A-game."