Arts
4/20/2011, 12:57 a.m.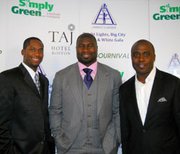 Nights of Inspiration …
Your girl has been quite a busy bee. It feels like I've been all over the city attending everything from galas and fundraisers to book signings and comedy shows. It's been nonstop event after event and let me just say, it's been a fabulous and inspiring few weeks.
Ashley Judd
In town to promote her book, "All That Is Bitter and Sweet," Ashley Judd, award-winning actress and humanitarian, hit the C. Walsh Theatre at Suffolk University. Judd was joined on stage by moderator Candelaria Silva to discuss not only her experiences in feminist social justice work but also discovering the relationship between healing oneself and healing others.  That was the official description of the topic of discussion.  
But what it really boiled down to during the hour-long conversation was Judd discussing a little bit about her place in her family (mom and sis are country superstar duo Naomi and Wynona Judd), and her reasons for leaving acting and Hollywood. She also touched upon her work in rescuing prostitutes in brothels in India and in Vietnam. What was most moving was her experience as a model at the tender age of 15 years old traveling the world alone and being assaulted in Japan and having to deal with that traumatic experience. My heart just went out to her after listening to her story. I didn't get a chance to read her book in advance but from listening to some of the people in the audience that night, it sounds like it's a must-read.
AMPLIFY!
I was invited to the fourth annual AMPLIFY! fundraising event to support Teen Voices, whose mission is to educate teen girls about how to create social change through media. These young ladies are absolutely amazing. I was so impressed by their confidence and their talent. It's a wonderful organization for a young girl to be involved in and they were truly inspirational as they mingled with all of the guests, including host Karen Holmes Ward, Sara-Ann Shaw, Hubie Jones and Lisa Simmons.
Another fabulous woman at the celebration was keynote speaker Donna Brazile and if you don't know who she is, you need to find out. Brazile, recently named Democratic National Commitee interim chairwoman, is a veteran political strategist and a very intelligent woman. She ended her speech with Maya Angelou's "Phenomenal Women." Truly a phenomenal evening!
Bright Lights, Big City Black and White Gala
What a fabulous night!  I tend to use that word a lot but I can't help it, especially when attending such a wonderful event as the 3rd annual fundraiser for Jaden's Ladder. It was held on the 17th floor of the Taj Hotel with a live and silent auction, entertainment by the band Mystique and DJ Roy Barboza. What more could you ask for? Wait, there's more ... Sitting at our table were the very charming and handsome Atlanta Falcons wide receiver Harry Douglas and Pro Bowl fullback Ovie Mughelli, future Hall of Famer Marshall Faulk and Boston Celtics Assistant Coach Armond Hill.