Harvard celebrates 40 years of jazz
Astrid Lium | 4/13/2011, 10:58 a.m.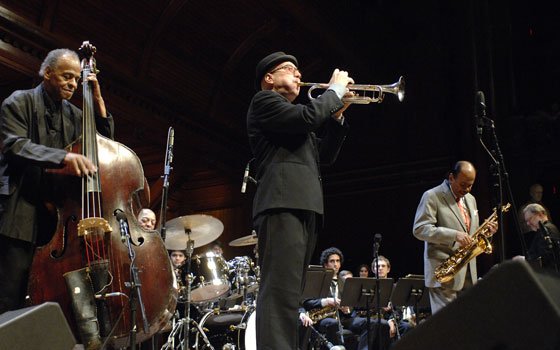 Palmieri was more understated, yet equally talented, at the piano. He was the straight man to Lynch's more comic and animated onstage persona.
The remaining Harvard All-Stars, tenor saxophonist Benny Golson, bassist Cecil McBee and drummer Roy Haynes, joined Lynch and Palmieri for the finale.
Golson manned the mic and honored Everett with his smooth voice. "Forty years ago, Tom Everett had the audacity to suggest Harvard start a jazz program and someone had the audacity to hire him."
The crowd chuckles.
"Was it easy?" Golson continues. "Of course it was!"
The crowd roars.
"What can I say about Tom Everett?  He is an icon in his own right."
Everett bashfully nods his head and waves from the stage.
The ensemble then reminded the audience what was being celebrated as they performed Golson's "Whisper Not," Charlie Parker's "Steeple Chase" and "Blues for Moody" in memory of the late jazz musician James Moody.
The spontaneity and experienced improvisation of the old timers complimented the organization and air tight preparation of the student bands. With the All-Star band leading the way, the Ivy League venue morphed into a smoky jazz bar for a set, without the smoke.
One of the highlights was Roy Haynes' vibrant drum solo, which he played in a funky suit and orange Uggs. Golson gently joked afterward of the 86-year- old drummer's youthful performance. "[Haynes] has been lying to me for years. He's really 20 years old!" Golson said.