'A Reason to Believe'
4/13/2011, 8 a.m.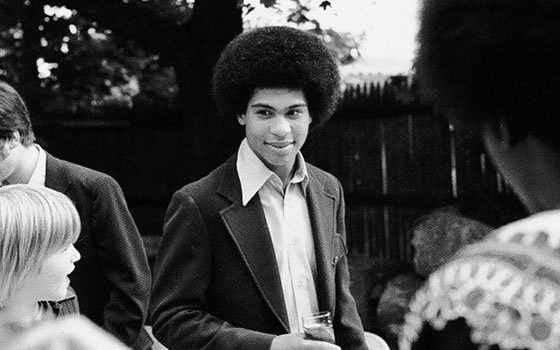 I was in Boston much of the same time that you were in school there, the late Seventies, a period of virulent racism.
I was indeed here then, and had an experience sitting in the bleachers at Fenway Park which affected my appreciation of baseball for a long time. And a white friend with me was just as rattled. He didn't know what to say. But Dr. King was right when he said that the arc of the moral universe is long but it bends towards justice. 
Can you tell us how a teacher enriched your life?
I had a sixth-grade teacher, this incredibly self-confident young woman who took the entire class to see the first opera I'd ever seen. She also took us to see "The Sound of Music" and used it as an opportunity to instruct us about the rise of the Nazis. She taught us how to count in German from a phrasebook. She was the first person who stoked my imagination in a way which made me feel like I could be a citizen of the big, broader world. So, I invited her when I graduated from prep school and from Harvard. A great teacher who is full of excitement and love for her students can make all the difference in their lives.
You became a partner at a Boston law firm when you were 34.  What advice do you have for jurists  to break the glass ceiling?
That's not an easy question. I think it's absolutely obvious that you have to be prepared to sacrifice and to give it 100 percent, and then make it clear to everyone around that you are not indifferent about the outcome of your efforts.
Will you run for the presidency in 2016?  
[Laughs] No, this is my last gig in elected office, as far as I can project ahead. Governor is the only office I've ever run for, and I did so in the first place because I felt that there was a contribution I could make right now in governing for the long term and by leading by values. I ran for a second term to finish the work we started. I'll finish this out and return to the private sector, which I enjoy and miss in some ways. 
To what do you attribute your election and re-election in a state with such a small minority population?
I very much believe in values-based leadership, and that the values that I believe in and try to govern by are transcendent values. They have nothing to do with race or even with political parties. Secondly, I think nothing substitutes for the power of the grassroots by showing them the courtesy of going to them where they are and inviting them to take part in the political process.
What would you encourage Americans to do to help at-risk children realize their potential?
Well, I think that's all about investing time in them. I believe children are hungry for the company of adults. At the time I was growing up on the South Side of Chicago, many families were broken, but it was still a community because back then every child was under the jurisdiction of every single adult on the block. If you messed up in front of Mrs. Jones, she would straighten you out, and then call your mother before you arrived home. What I think those adults were trying to get across to us, Kam, was that they had a stake in us. They were trying to teach us that being a member of community involves recognizing the stake that each of us has not only in our own dreams, but in our neighbors' as well. I'm so grateful to A Better Chance that it will receive a portion of the proceeds of this book.