New BHA chief of staff brings unique perspective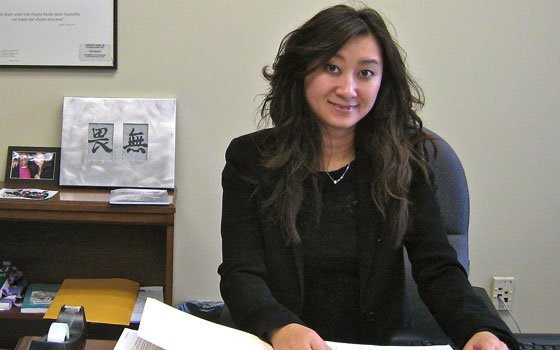 "Quite frankly, I wanted to fill the position with someone outside the organization," he said. "I wanted someone who could come in with a fresh set of eyes."
Nguyen brings firsthand experience of living in public housing (as does McGonagle, who grew up in South Boston's Old Harbor Village development) and in poor urban neighborhoods. In addition, as a minority and a refugee, she has a deep understanding of upheaval, relocation and discrimination.
Her family fled Vietnam after the fall of Saigon, when Nguyen was 4 years old. She remembers clinging to her mother's neck in the water as her parents and her five siblings swam toward a far-off boat.
After days at sea, where her mother feared they would all die, they were rescued by a Japanese boat. The family stayed in a Kyoto refugee camp for two years before the Refugee Act of 1980 enabled them to come to the United States, miraculously intact.
"My mom always says angels brought us here," Nguyen said. "A lot of families didn't make it."
They lived first in Macomb, Ill., then New Orleans, where her parents worked as dishwashers and the family lived in public housing, and finally Worcester, Mass., where Nguyen attended high school.
She learned English quickly, she said, but felt the sting of anti-Asian sentiment and low expectations for immigrant children. Guidance counselors steered her toward ESOL classes she didn't need and toward community college or work as post-high school options.
Instead, she won scholarships and earned a bachelor's degree in philosophy at Clark University and a master's degree in international development and communication at Ohio University.
Returning to Massachusetts, she worked as a youth organizer at UMass-Boston's Institute for Asian American Studies while completing a second master's degree in human services and helping to found the Vietnamese American Community Center in Dorchester.
Her research at UMass-Boston on immigrant voting patterns expanded her reach to Haitian and Chinese communities as well as Vietnamese.
"I didn't want to be tied to a certain identity just because I was Vietnamese," she said. "I wanted to know that I could cross those boundaries effectively."
She continued studying diverse communities and urban issues as an adjunct professor at UMass-Boston teaching community research methods, and through subsequent jobs in development and public relations at the Mayor's Office of New Bostonians, the Boston Women's Foundation and Urban League of Eastern Massachusetts (ULEM).
At ULEM, she played an integral role in planning for this summer's National Urban League Conference in Boston, "twisting arms and convincing people Boston is a different place than in 1976," said Board President Jeffrey Musman.
ULEM President and CEO Darnell Williams praised her passion and focus. "Trinh cuts through the red tape, gets results and helps people," he said.
Much of Nguyen's day-to-day work is spent in meetings: with internal staff, with BHA tenants and with outside agencies.
"I'm at the table with city agencies and nonprofits," she explained in a recent phone call, "in order to bring whatever they're talking about to the BHA, and to make sure they don't forget about public housing residents."