Neurosurgeon Carson has Boston roots
9/28/2010, 8:38 p.m.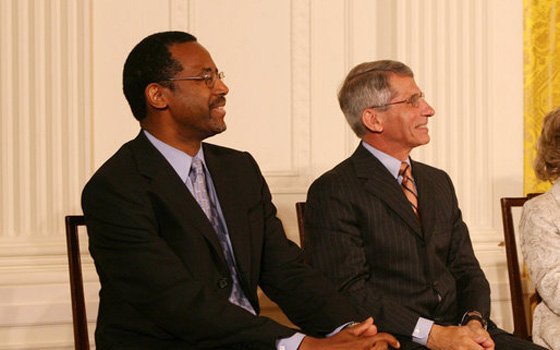 Glen Cassimy, who is in his second year as Berea's principal, said the school is aware of its famous alumnus. "All principals have spoken about this," he said.
Carson underwent an academic turnaround after the family moved back to Detroit.
The key, he said, was reading prolifically. His mother, who had only a third-grade education, was a domestic worker who paid careful attention to the activities of the children of the rich white families in whose homes she worked. One day she commanded her sons to do likewise: Turn off the TV, check out two books a week from the public library, read them and write book reports so she could verify they had done the reading.
That new routine, particularly the inspiration Carson found in "Up From Slavery," Booker T. Washington's autobiography, and the story of Joseph in the Bible, propelled him to Yale University, the University of Michigan Medical School, Johns Hopkins Hospital and into the pantheon of African American heroes. He is a winner of the Spingarn Medal, the NAACP's highest honor.
Carson has committed himself to inspiring children to higher achievement, by securing funds for reading rooms in elementary schools that do not have libraries and for college scholarships for high-achieving, community-minded students. His Ben Carson Scholars program has provided scholarships to 4,300 students in 42 states and Washington, D.C. The University of Massachusetts Boston established a Ben Carson Scholarship in 1991.
Carson's Boston years are described in his 1990 autobiography, "Gifted Hands: The Ben Carson Story," coauthored by Cecil Murphey. Last year, a movie with the same title was released, starring Cuba Gooding Jr. as the famed neurosurgeon who was the first to successfully separate Siamese twins joined at the head.
Over the years, Carson has returned to the area to give commencement speeches at the Harvard School of Dental Medicine, Boston University School of Medicine, UMass Boston and, just last year, UMass School of Medicine in Worcester.