Arts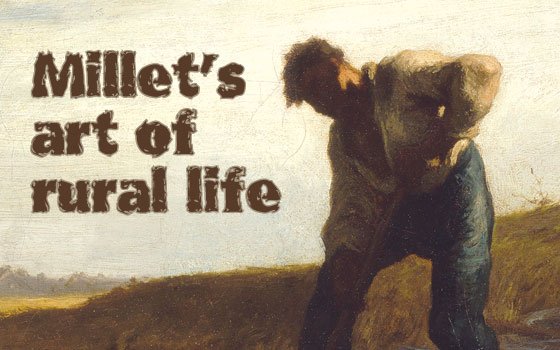 Sculpted by the dramatic play of sunlight and shadow, his images of field workers have an unsentimental heroism that inspired Vincent van Gogh. As if rehearsing members of a cast, Millet prepared his carefully choreographed oil paintings with sparely drawn studies. One drawing shows three women who resemble classical figures bending to gather bits of grain, a study for his great oil painting, "The Gleaners" (1857), at the Musée d"Orsay in Paris.
Another stark drawing is a study for a masterpiece in the MFA's European Gallery, "The Sower" (ca. 1858). The image of a muscular farmer at his labor fills the frame of the large oil painting, which despite its heavily cracked surface still generates raw energy.
Equal in power is a much smaller oil painting on view in the exhibition: "Man Turning over the Soil" (ca.1847-1850).
The selection of Millet's carefully observed, economically crafted finished works show his versatility, from sun-dappled pastels and earth-toned oils to luscious pastel and conté crayon images that capture the ebb and flow of daylight.
In the lyrical "Twilight" (ca. 1859-1863), the silhouettes of shepherds and their flock are backlit by the glow of a setting sun while a crescent moon accents the darkening sky. Another pastel and crayon drawing portrays Millet's daughter in a shaft of morning sunlight. The image is as sublime as a painting by Johannes Vermeer (1632-1675),
The oldest image on view, the drawing "Farm in Normandy" (1870-1871), conjures in quick, fluid strokes a thicket of trees and plain farm buildings within an expanse of sky and meadow. The scene evokes 17th century Dutch artist Rembrandt van Rijn.
Bringing his mastery of chiaroscuro — the poetic interplay of light and dark — to a variety of media and blending formal simplicity with textural richness, Millet rendered the grandeur and arduousness of rural life. Throughout his career, he drew upon the burnished techniques of the Old Masters as well as a sensuous response to nature that anticipates Impressionism.