First lady balances work, advocacy and campaigning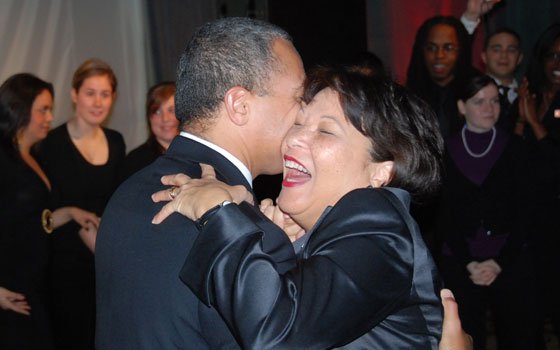 Lauby can attest to the impact of Patrick's advocacy work.
"I have been at events where Diane spoke, and people came up to me afterward to say they now understand in a different way what has gone on for them, or for a sibling," Lauby said. "She is a gift to victims and survivors and families, and to our organization. She has made a tremendous difference."
Author Randy Susan Meyers, who grew up in a home affected by domestic violence, saw Diane Patrick speak at a luncheon for Girls Inc. of Lynn last spring.
"Everybody in the room seemed very touched by her, because she reached so deeply into the personal," said Meyers, who is also former assistant director of Common Purpose, a batterer intervention program. "It was a beautiful balance of self-revelation without self-pity."
Telling personal stories goes a long way toward making the problem of domestic violence known, Meyers emphasized.
"There's incredible shame about being a victim," she said. "It's very important that girls know that if they go through this, it's not a life sentence to misery."
The first lady's guidance to girls she encounters is focused less on domestic violence per se than on valuing themselves. "If you don't have strong self-esteem, you are ripe for someone exploiting you," said Patrick, a former schoolteacher and mother of two grown daughters. "My message to my daughters and to all girls is not to let anyone else define them."
An easier campaign?
With the governor's re-election campaign heating up, the first lady talked about doing "almost everything" differently this time — setting priorities, defining limits and saying no.
"I've learned that I don't have to please everybody," she said, speaking last month in her office at the Boston law firm Ropes and Gray, where floor-to-ceiling windows provide a panoramic view of the Boston Harbor. "[Four years ago] I was under stress because I felt I had to be everywhere, do everything, please everybody. That's part of my personality, but I have learned to say no."
Still, noting a little disarray in her office, she explained that in preparation for the firm's move this fall to the Prudential Tower, the lawyers were asked to start packing — and being a "goody two-shoes," she was starting on it.
Patrick insists she has learned to put criticism of her husband and of her in perspective. But she is a news junkie, she said, and can't turn away. She devours not only print and radio news, but also talk radio and online reader comments that verge on hateful.
After leaving work around 7:30 p.m., she'll flip through stations on her car radio. "I'll pause on this hate radio, hear them ranting about Deval, and sit there and listen to it," she said, "and it's awful." Sometimes she has to stop herself from calling in to correct an "uninformed" host or caller, she confessed.
In some ways, the campaign is easier the second time. Four years ago, her challenge was to introduce her husband as a person. This time, she can talk about his record. The lawyer in her relishes this.