Three Dems battle over state auditor post in primary race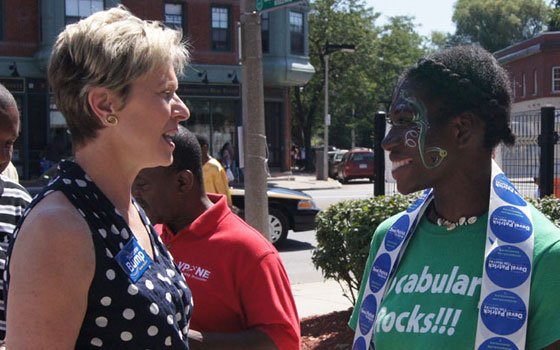 Mike Lake is the third Democratic choice in the auditor's race. Like Bump he is campaigning as a progressive. Lake is the youngest and least experienced candidate — a political outsider with neither management nor political experience to speak of — save for an undergraduate co-op in President Clinton's White House. His campaign has garnered less media attention because of his smaller war chest and lack of celebrity, but he is not to be counted out.
He earned 25 percent of the vote at the 2010 Massachusetts Democratic Convention in Worcester earlier this year, a contest Bump won by just .5 percent.
The convention is one thing, and the upcoming Democratic primary is another. Corrigan asks voters to look at the issues, and to focus on each candidate's priorities.
The Glodis campaign has promised to audit the auditor's office, eliminate wasteful spending on rental space, create a method for increased citizen input, make certain as many contracts go to companies in Massachusetts as possible and protect property taxes from increasing.
For his part, Lake has announced his intentions for greater accountability, independence, initiative and innovation. What that really means to voters remains to be seen. He admits that he has no intention of being a career politician and has said that his first order of business will be to rescind the 5 percent pay raise that DeNucci gave his staff earlier this year.
Bump considers herself a major reformer and promises to look into the usefulness of tax credits and incentives as her first priority. She will also increase the performance audits on state contracts for services, specifically in the health and human services area.
In the primary, Bump says, the issues aren't going to be what sway the voters. She says that winning votes will "come down to the image of trustworthiness and professionalism and experience that each of us is able to convey to the voters."