Three Dems battle over state auditor post in primary race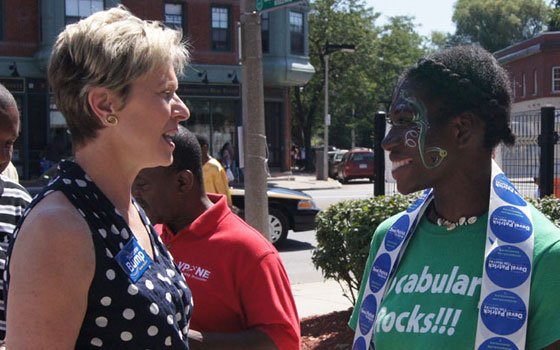 Wrought with denied claims and inflated insurance premiums, said Bump, "employers, workers, doctors and hospitals, everybody was playing the system to their own advantage." She went through the dynamics of workers' compensation one line item at a time and determined that if there were fewer incentives for litigating, the system would be more efficient.
"A lot of lawyers lost business because we fixed the system so that it wasn't so dependent on lawyers to resolve claims," she said. This decision cost her the election in 1992, when lawyers backed her opponent and pushed her out of office.
"I knew that I was taking a risk when I was doing this, and that's a price I paid and I would do so again because we have one of the best workers' comp programs in the country," she said.
She isn't shy about taking the credit, nor about past mistakes.
In 1991, Bump and her husband accepted a $200 evening out with a lobbyist when $50 was the limit. A few years later, the ethics commission ordered her to pay a $600 fine. She complied and she currently discloses this report on her campaign website at the end of "QandA with Suzanne."
"If you are going to undertake any of these responsibilities than compliance with the law is of paramount importance," she said.
She points out that the Ethics Commission report determined there was no "intent to influence any particular act within her official responsibility" over the dinner and theater tickets, and that she "fully cooperated with the investigation."
"When you are talking about people breaking the law," said Bump, "that brings it to a whole other level."
Speaking of her closest opponent this month, Guy Glodis, she shares his many shortcomings with as much ease as her own.
A recent Boston Globe article revealed that Glodis failed to properly identify the source of a $20,000 no-interest personal loan from a friend. Days after receiving the funds, he loaned $22,000 to his 2004 campaign for Worcester County Sherriff. His friend turned out to be Amit Mathur, a hedge fund manager who is currently serving a 10-year federal prison sentence for defrauding investors.
"It is a guilt by association type story," said Glodis campaign spokesman Ernie Corrigan, adding "I thought Suzanne would run a better campaign than this."
At least one of her complaints can be found in the 2010 audit report of the Worcester Sheriff's Office. Bump has asserted  that Glodis compensated his staff with more than $180,000 in lunches. According to the audit, Worcester Sheriff's Office officials defended the free lunches by arguing "that if the free meals were eliminated, collective bargaining agreements would have to be amended to compensate for this benefit, creating additional costs."
Bump says this is part of "a pattern that really raises serious questions about his trustworthiness. He has had problems with campaign finances, public finances and accounting for personal finances. And we're talking about a job that is the ultimate in taxpayer protection."
Corrigan calls Bump's comments a "mudbath."