Three Dems battle over state auditor post in primary race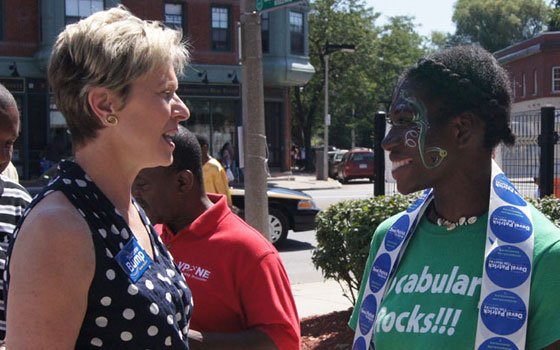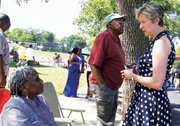 Suzanne Bump would like your vote — she is running for state auditor in the Sept. 14 primary. So would Worcester County Sheriff Guy Glodis and political newcomer Mike Lake.
This is the first time since 1986 that the incumbent, Joe DeNucci, isn't running and also the first time in more than 20 years, the candidates say, that voters have a choice.
For years, DeNucci called himself the "watchdog for the underdog." Aside from the three democratic candidates, a Republican is also in the race.
 Mary Z. Connaughton is a certified public accountant and was a member of the Massachusetts Turnpike Board of Directors. She also served as chief financial officer for the State Lottery, vice chairman of Framingham's Finance Committee and taught accounting at Framingham State College.
Without any opposition on the Republican side, the focus has been on the democratic candidates.
On a recent campaign stop, Bump stood tall with cropped blond hair, light eyes and a bright toothy-smile. Dressed for a summer party but with gold flats for walking, she navigated a crowd off Warren Avenue in Roxbury before the Caribbean Festival earlier this month.
"I'm very comfortable in communities of color and have actually spent a lot of time working in them over the years," she said.
Eight years ago she was a volunteer on Shannon O'Brien's campaign for governor and she spent a lot of time in the community.  Bump said that it gave her insight to the priorities she should have as a state-wide leader. When Gov. Deval Patrick picked her as his labor secretary, she said that she made a point to open up "my own work force  to people of color."
As state secretary of labor, Bump employed more than 650 minorities; a 12.6 percent increase in non-management and 15.8 percent increase in management over the former labor secretary's workforce.
She called this a "significant achievement," and said, "I want to provide that same opportunity as state auditor."
Two weeks ago, she attended services at the Twelfth Baptist Church in Roxbury. Rev. Gerald endorsed her, calling her a "friend of the community." He let her speak to the congregation, and afterwards, as Roxbury resident and Boston Volunteer Coordinator Aaron Jones recalled, one community member awarded her high praise.
"A fellow came up to us, his name was Robert Woodson," said Jones, "he had just wanted to reach out to Suzanne," and tell her that he worked for the division of unemployment for the past twenty years and saw more positive changes under her leadership than any of her predecessors. "He said that she had a very unique style and that he really appreciated her work," Jones said.  
He called that comment "refreshing" and indicative of Bump's leadership. He praised her as trustworthy and honest. Jones says Bump has positive motives and believes that she will be good for the community.
Good motives aside, her actions speak more to Bump's 'watchdog for the underdog' potential.
One example, Bump's efforts in the 1990s to reform workers' compensation. At the time, she said, the system was "on the verge of collapse."