Harvard University's W. E. B. Du Bois Institute for African and African American Research hosts a powerful new exhibit "The Image of the Black in Western Art"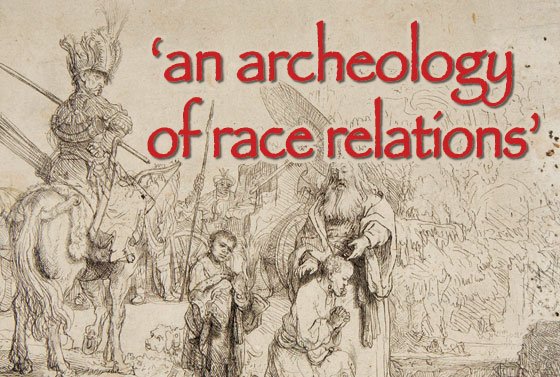 (Rembrandt Harmensz van Rijn's "Baptism of the Eunuch" (1641), courtesy of Harvard Art Museum, Fogg Art Museum, Gray Collection of Engravings Fund)
Harvard University's W. E. B. Du Bois Institute for African and African American Research hosts a powerful new exhibit "The Image of the Black in Western Art"

Seen together, art works can tell a larger story. A narrative that spans four millennia informs a small but stirring exhibition at Harvard as well as the monumental research and publishing project that is its inspiration.
In 1960, art patrons Dominique and John de Menil began a project to photograph works of Western art from antiquity to the present day that portray Africans and the people of the African Diaspora. Entitled "The Image of the Black in Western Art," the enterprise yielded an archive and multi-volume catalog that John de Menil described as "an archeology of race relations."  
The archive is now housed at Harvard University's W. E. B. Du Bois Institute for African and African American Research, where the exhibition "Africans in Black and White: Images of Blacks in 16th- and 17th-Century Prints" is on view until December 3 at the Institute's Rudenstine Gallery.  
Curated by Anna Knaap, visiting fellow at the Jesuit Institute of Boston College, and David Bindman, emeritus professor of the history of art at University College London, the exhibition is a prelude to the fall release of updated and new volumes of "The Image of the Black in Western Art." Its editors are Bindman and Henry Louis Gates Jr., Alphonse Fletcher University Professor at Harvard and director of the Institute.
Its 20 Renaissance and Baroque images, all but four from the Harvard Art Museums, concisely survey an important chapter of a story that began in the age of the pharaohs.
Except for one, the prints were made between 1503 and 1742, a period that spans the rise of the European slave trade. The era also coincided with a peak era in printmaking, which enabled artists to engrave images on stone, metal or wood and produce multiples of their works that could reach a far broader audience than their paintings.
In prints as in paintings, European artists showed Africans as they saw them in society — as slaves and servants and occasionally as freedmen, scholars and diplomats. Blacks also play a part as allegorical figures standing in for fecundity, sensuality and the wilderness.  In depictions of Bible stories — often encounters that bring people together across borders — African figures are protagonists rendered with great dignity and humanity.
Although some images are more historic records than art, the exhibition includes exquisite works by Albrecht Dürer (1471-1528), Rembrandt van Rijn (1606-1669) and other artists of less renown.
Dürer's woodcut, "Adoration of the Magi" (1503), shows the African magus at the moment of arrival, with a meandering road in the background. Already on their knees, the other magi are elders, with thickly draped cloaks and beards. The African is youthful, beardless and athletic, and wears a short cape. Horizontally aligned with a protective, sorrowful Mary in the far right, he bends to kneel, his hat in hand. A marvelous series of welcoming gestures unite the composition: the infant's hand extends to an elder magus, whose hand in turn beckons the newcomer.