Take control of your cancer risk
9/1/2010, 5:13 a.m.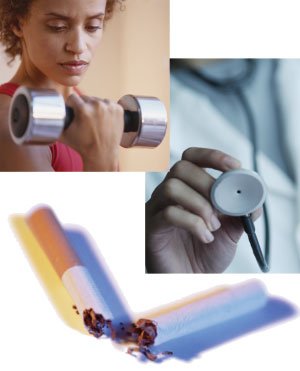 Stay active
Physical activity can help you lose weight and prevent obesity, which is a risk factor for certain types of cancer. Studies also show that regular exercise is associated with a decreased risk for breast cancer. Experts say you should try to get at least 30 minutes of activity five or more times a week.
Walking is one of the easiest exercises to adopt. It can be done virtually anywhere and is suitable for all ages and fitness levels. If walking doesn't appeal to you some other options include bicycling, dancing, gardening, yoga or even climbing stairs.
Get screened
Women who are sexually active or over the age of 21 should see their doctor for a Pap test every year. This is the main test for cervical cancer, and it is one of the most reliable cancer screenings available. To further protect against cervical cancer, ask your doctor about the vaccine for human papilloma virus (HPV), which helps prevent two types of HPV that cause 70 percent of all cervical cancers.
If you're age 40 or older, or you have a family history of breast cancer, you should get a mammogram every year. Low-cost mammograms and health education are available through Dana-Farber's Mammography Van.
To find more tips on preventing cancer and taking control of your cancer risk, visit www.dana-farber.org/community.