37th annual Caribbean Festival rolls through Rox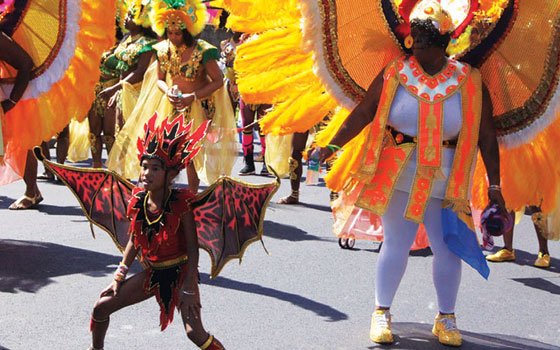 Grant was on the sidelines this year, but last year participated, paying $150 for one gold and black costume, as well as for four others.
"Last year I was kind of tribal," he said. "My hat it had a skull — it was the warrior of the sun, and I had lot of fun. "
With great big smiles, woops and wallops, everyone was out in the streets with one purpose: to have a good time and to celebrate the traditions of the Caribbean.
"Celebrating where we came from," Dominique Blaides, 18, said, is important to her and her twin brother. They're both members of Branches, a steel band that performs each year in the Festival, among other community events. To her, Carnival is about "the freedom of expressing who we are, and our country and just being able to say, 'hey, this is who we are; this is how we celebrate.' "
In Trinidad, Carnival is a national holiday. For many, it begins a month before the official celebration with an extended vacation, nightly parties laced with soca music, calypso and steel pan bands.
Bernard called the Festival, the "biggest secret in Boston." She said, "People just need to come out and celebrate with the Caribbean, why not? It doesn't matter if you are from it or not."