Arts
10/26/2010, 11:35 a.m.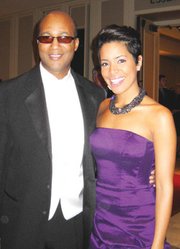 Les Nubians at Middle East Downstairs
Grammy-nominated and international recording artists Les Nubians were in town for a CD release party at the Middle East Downstairs in Central Square. One of my favorite groups, (although I must admit, I don't have all their albums), but I've appreciated their Afropean style and music ever since their debut album "Princesses Nubiennes" was released in 1998.
The French/Cameroonian sisters, Helene and Celia Faussart, have a distinctive afro/jazz/soul sound with a little bit of hip hop thrown in the mix that draws from the timeless sounds of Miriam Makeba, Ella Fitzgerald, Fela Kuti and The Fugees. They performed most of their songs (including two of my favorites, "Demain" and "Tabou") and some new ones from their upcoming album "Nu Revolution" for almost two hours backed by an awesome nine-piece band. The band rocked the crowd as the sisters bantered playfully back and forth with the audience.
I enjoyed the show and si vous avez la chance, allez voir Les Nubians (which translates in English to … if you have a chance see Les Nubians).
Heart of the Hub
Discover Roxbury celebrated a night of food, friends, art and fun with their third annual fundraiser, "Heart of the Hub," at the Roxbury Center for Arts at Hibernian Hall. WCVB-TV's Karen Holmes Ward served as emcee and The E-Water Band provided the entertainment. The evening also featured "A Taste of Roxbury" with food provided by several area restaurants such as Haley House Bakery Café (the chicken empanadas were really good); Rudi's Resto Café and Verve Lounge served an awesome macaroni and cheese; cheesecakes by That's Yummy and The Savant Project, just to name a few.
Discover Roxbury honored three members of the community for their advocacy and continued commitment to and development of Roxbury's physical and cultural assets. The 2010 Roxbury Puddingstone awardees included Bing Broderick, director of business and marketing at Haley House; our very own Melvin B. Miller, publisher/editor of The Bay State Banner and Klare Shaw, senior advisor for education, arts and culture at the Barr Foundation.
Joining in the celebration were state Sen. Sonia Chang-Diaz; restaurateur Darryl Settles; Northeastern's Mimi Hughes, TOUCH 106FM's Charles and Phyllis Clemons, state Rep. Byron Rushing and former WBZ-TV reporter Sarah-Ann Shaw.
Dinner And A Movie
The Color of Film Collaborative and the Haley House Bakery Café presented "Dinner And A Movie" night which screened the hard-hitting documentary "American Faust:  From Condi to Neo-Condi," one of the most popular films at this year's Roxbury International Film Festival. This was my first time attending "Dinner And A Movie" and I had the chance to meet new people, eat healthy and good food, plus engage in great conversation. The dinner portion featured delicious vegetable spring rolls, a wonderful Asian chicken stir fry and a delicious dessert of rice pudding followed by the documentary about Condoleezza Rice and a retrospective film on the Bush Administration. I can't forget the stimulating conversation moderated by Nina LaNegra of the Roxbury Media Institute after the screening. I'm looking forward to the next one!