Obama credits Gov. Patrick's economic leadership
Associated Press | 10/20/2010, 8:12 a.m.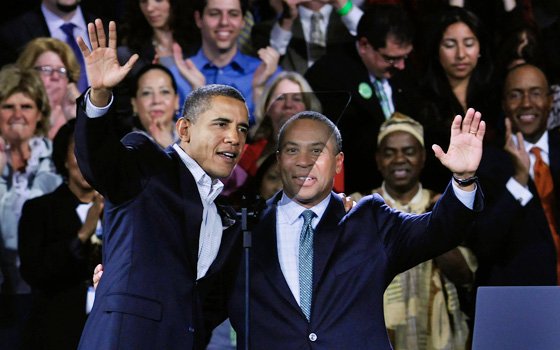 Kerry, the 2004 Democratic presidential nominee, rattled through a list of potential Republican senators, including Sharon Angle of Nevada, Joe Miller of Alaska and "what's-her-name," Christine O'Donnell of Delaware.
He noted Angle's criticism of Social Security, Miller's criticism about Medicare and accused O'Donnell of wanting to eliminate health care for 31 million Americans.
"I think she thinks she's going to wave her wand and it will all disappear, but this is real, folks," said Kerry, alluding to O'Donnell's admission about dabbling in witchcraft as a high schooler.
Miller spokesman Randy DeSoto accused Kerry of supporting his fellow incumbent, Alaska Sen. Lisa Murkowski. She is now running as an independent after losing the Republican primary to Miller, a conservative backed by former Alaska Gov. Sarah Palin.
"It makes total sense that John Kerry and other liberals would attack Joe Miller. They're very comfortable with their good friend Lisa Murkowski."
Vicki Kennedy tried to counter reports of a relative lack of Democratic enthusiasm across the country, telling the crowd: "We vote. We don't need to be standing on a street corner, shouting and yelling at the top of our lungs. We can get our voices to be heard in the voting booth."
Afterward, Obama traveled to West Newton for a fundraiser at the home of Caritas Cristi CEO Ralph de la Torre that raised about $900,000 for the Democratic Senatorial Campaign Committee. It is charged with electing party members to the U.S. Senate.
The president is counting on a Democratic Senate to pass the remainder of his first-term agenda. Both it and a Democratic House are in jeopardy in next month's midterm elections.
Meanwhile, de la Torre has been counting on local Democrats from Attorney General Martha Coakley on down to back the $895 million proposed sale of six Caritas Catholic hospitals to Cerberus, a for-profit, private equity firm.
Among the first in line for Patrick's rally was Danae Jacobs, a middle-school teacher from Cambridge.
"I love me some Obama," she said enthusiastically, despite shivering after arriving at 8 a.m.
Jacobs said she plans to vote for Patrick on Nov. 2, citing his work to overhaul the state's education system and preserve state funding for public schools despite more than $4 billion in budget cutting.
Associated Press